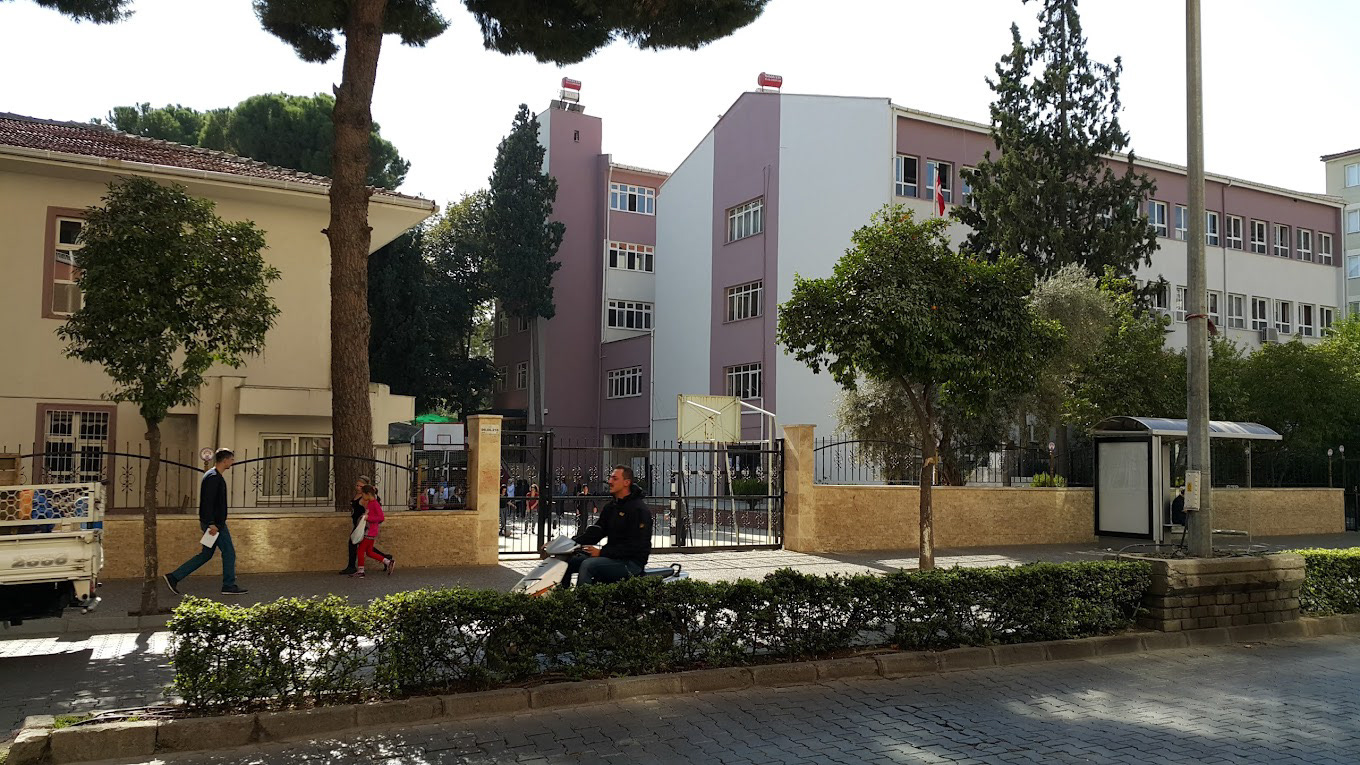 AYDIN ​​TECHNICAL VOCATIONAL GIRLS SCHOOL
Anisa graduated from a Technical Vocational School specializing in Graphics and Photography, where she achieved top rank in her school. In 2023, Anisa garnered the highest academic grades among all her peers and was honored as the Valedictorian, also known as the head girl, dux scholar, or topper. This experience significantly enhanced Anisa's graphic and photography skills and her proficiency in Turkish.
Her school boasts a long history, having commenced its educational journey in 1944. It was named in honor of Zübeyde Hanım, the mother of Mustafa Kemal Atatürk, who was the founder of modern Turkey. The school's administration is actively involved in Erasmus+ projects, working diligently to meet EU standards.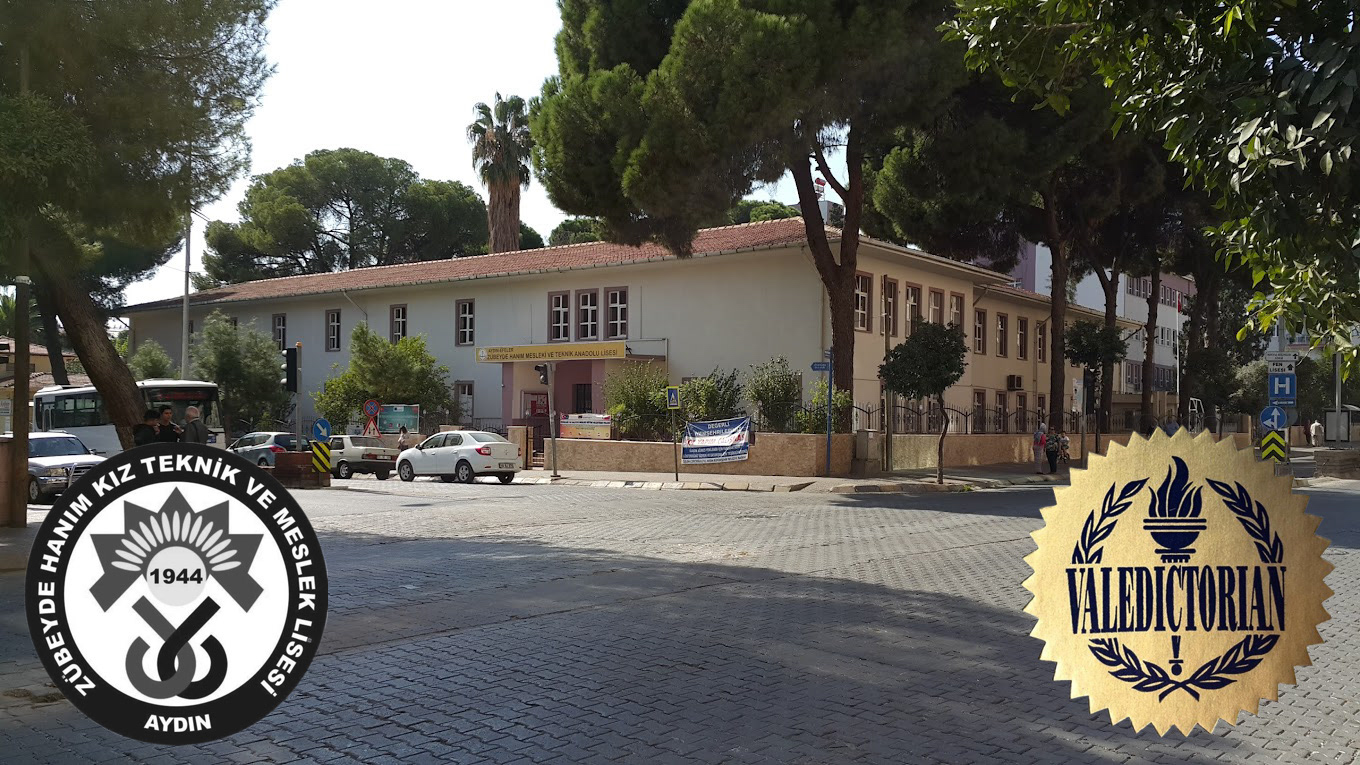 Anisa's specialty there was in the Print and Publication sector, with a specific focus on Graphics and Photography. The curriculum was designed to help Anisa develop skills for crafting visual messages targeted at specific audiences while aligning with the latest industry standards and technological advancements. This educational foundation prepared Anisa well, allowing her to become a skilled graphic artist ready to contribute to the rapidly evolving landscape of visual communication.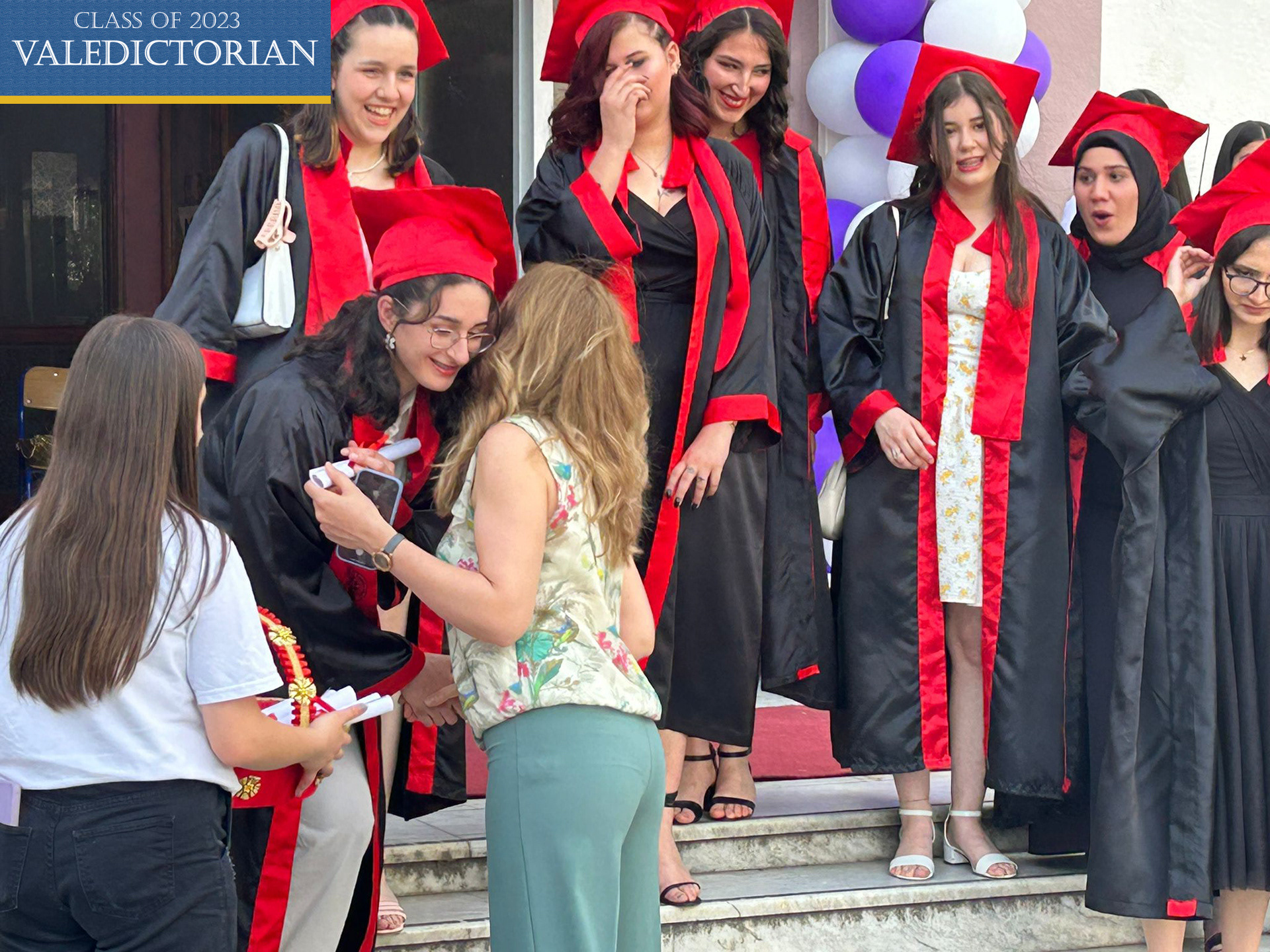 Principal Ayyildiz handed Anisa a letter, proudly announcing her as the top graduate student. Cevriye Ayyildiz, a dedicated education professional born on July 18, 1971, has pursued her passion for fashion and clothing since starting her career as a fashion clothing tutor in 1992. She has excelled in various roles throughout her journey, eventually becoming a respected Principal and School Manager. She continues her commitment to education as the school principal at Aydın/Efeler Zübeyde Hanım Vocational and Technical Anatolian High School, inspiring students and colleagues alike with her dedication and passion for shaping young minds.

RE: Anisa ÖZALP - Academic Achievement Date: 18th July 2023
To whom it may concern, I am pleased to provide this letter of recommendation for Anisa ÖZALP, a remarkable student from the Graphics and Photography Department at T.R. Efeler Governorship District Directorate of National Education Zübeyde Hanım Vocational and Technical Anatolian High School.
Anisa ÖZALP graduated in the 2022-2023 academic year with an outstanding success score of 91.5341, securing the top position among all students at our school. Her dedication, hard work, and consistent academic excellence have been truly commendable throughout her time at our institution. Please do not hesitate to contact us if you require any further information or have any questions.
Sincerely, Director Cevriye AYYILDIZ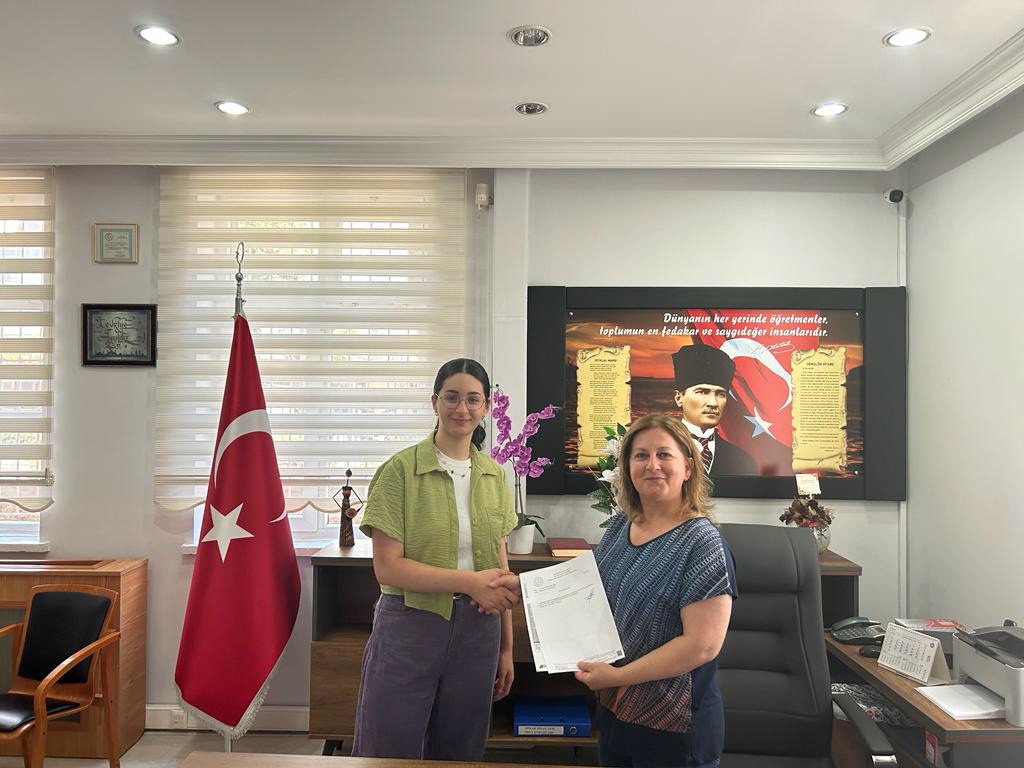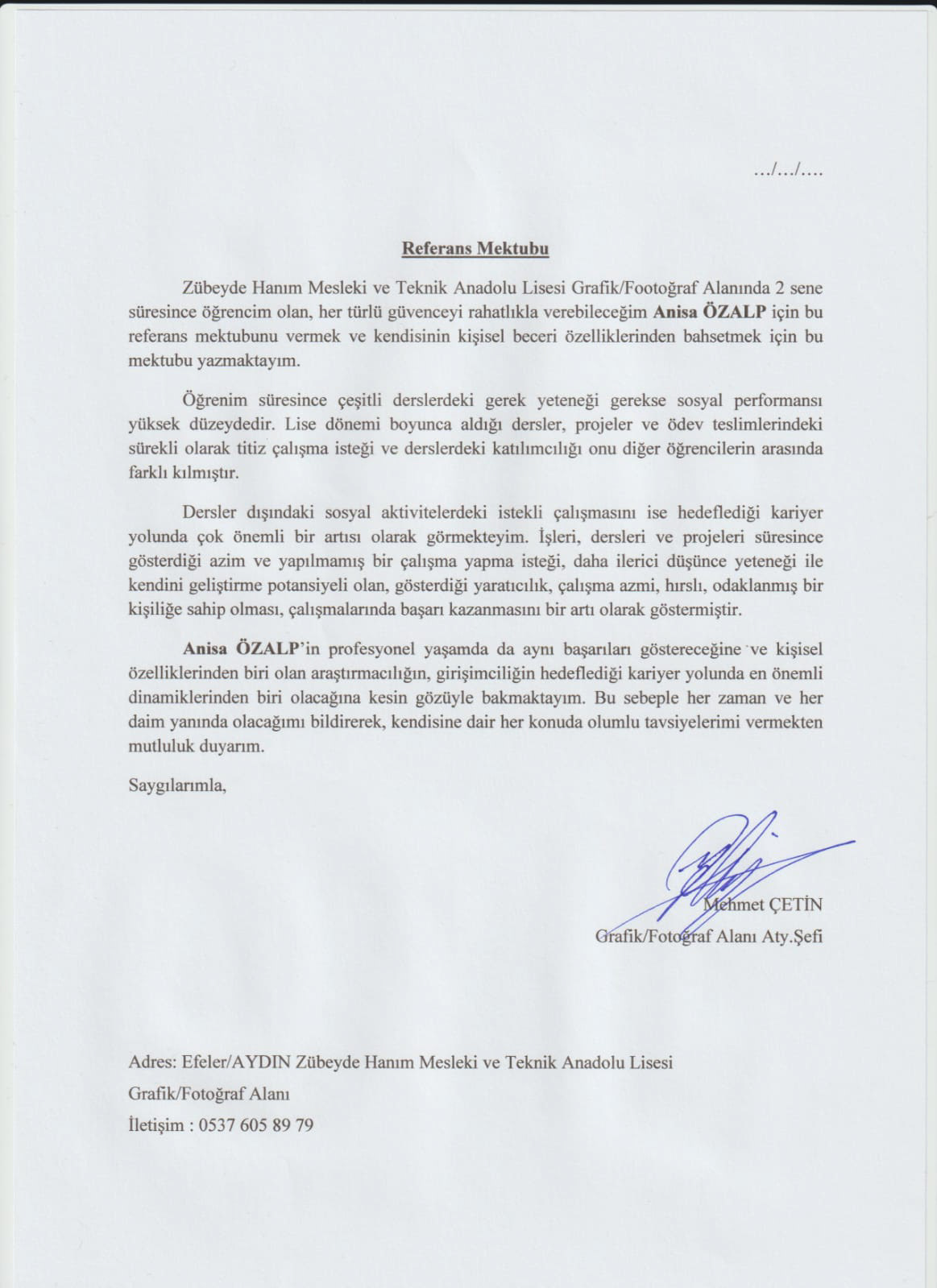 I am writing to reference Anisa Ozalp, my student in the Graphics/Photography program at Zübeyde Hanım Vocational and Technical Anatolian High School. During this time, Anisa consistently demonstrated high levels of ability and social aptitude in various courses. She consistently demonstrated a strong work ethic and active participation in lessons, projects, and assignments. In addition to her dedication to her studies, Anisa showed a willingness to engage in extracurricular activities and a clear focus on her career goals.
Anisa is a determined and ambitious individual with a talent for progressive thinking and creativity. She consistently demonstrates perseverance and a desire to produce original content. These traits, combined with her successful academic record, make me confident that Anisa will continue to excel in her professional pursuits. I do not doubt that her determination, drive, and passion for research will serve her well as she embarks on her entrepreneurial career path.
In conclusion, I am happy to provide a positive reference for Anisa and am confident she will continue to be a valuable asset in any professional setting. I am always happy to support her in any way I can.
Sincerely, 
Mehmet Cetin 
Graphic/Photography Area Workshop Chief Zübeyde Hanım Vocational and Technical Anatolian High School Efeler, Aydin
Projects ANISA COMPLETED AT SchooL
The city of Aydın is in a prime location that contributes significantly to the country's tourism industry. Additionally, agriculture is vital to the city's economy, with figs being the most well-known crop. However, other agricultural products are also cultivated intensively, and some light industries are in the area. In addition to figs and olive oil, traditional crops like cotton are grown in the region.
Aydın is located in the lower valley of the Büyük Menderes River, also known as the ancient Meander River. The city spans the region from the uplands of the valley to the coastline. This area has long been recognized for its fertility and productivity. Aydın has a rich history influenced by various civilizations, including the Argives, Trallians, Lydia, Athens, Sparta, Romans, Greeks, Ottomans, and Turks.
Empowering Creative Minds: The Impact of Aydin Lady Zubeyde Technical Vocational Girls School on Visual Arts Landscape
Established in 1944, Aydin Lady Zubeyde Technical Vocational Girls School has been a trailblazer in nurturing the creative prowess of many young women in Turkey. Named after Zübeyde Hanım, the mother of Mustafa Kemal Atatürk, the founder of modern Turkey, the institution has been pivotal in fostering students' skills like Anisa Ozalp. As she evolved from a student of Graphic Design and Photography classes in 2023 to a proficient graphic artist, Anisa's journey is a testament to the institution's commitment to delivering design education that aligns with the industry standards.
Her accolades from the Print and Publication sector, specifically focusing on Graphics and Photography, highlight the school's role in equipping its students with the skills to create visual messages targeted at specific audiences. Further, the school's involvement in Erasmus+ projects underscores its pursuit of meeting EU standards, positioning it as a key player in the educational landscape.
Moreover, the school's location in the fertile and productive region of Aydin, known for its contribution to the tourism industry and a robust agricultural economy, adds another layer of rich cultural experience for the students. Blending an intensive educational experience with the historic and agrarian backdrop of Aydın provides a holistic learning environment conducive to shaping well-rounded professionals. Thus, the Aydin Lady Zubeyde Technical Vocational Girls School continues to mold young minds, fuelling the growth of the visual arts landscape.
You are warmly invited to
contact Anisa
and collaborate with her on a commissioned piece, as well as explore her artistic process in depth by viewing her informative Speedpaint videos on her
YouTube channel
.