AYDIN ​​LADY ZUBEYDE TECHNICAL VOCATIONAL GIRLS SCHOOL
I graduated from Graphic Design classes at
Zübeyde Hanım Vocational and Technical Anatolian High School
in Aydın in 2023 to enhance my graphic design skills and Turkish language proficiency. The school has a long history, starting its educational journey in 1944. It is named after Zübeyde Hanım, who was the mother of Mustafa Kemal Atatürk, the founder of modern Turkey. The school administration is actively involved in Erasmus+ projects, working towards meeting EU standards.
In the year 2023, I achieved a significant milestone: my graduation from Aydın Lady Zubeyde Technical Vocational Girls School. My specialty there was in the Print and Publication sector, with a specific focus on Graphics and Photography. The curriculum was designed to help us develop skills for crafting visual messages targeted at specific audiences while aligning with the latest industry standards and technological advancements. This educational foundation prepared me well, allowing me to become a skilled graphic artist ready to contribute to the rapidly evolving landscape of visual communication.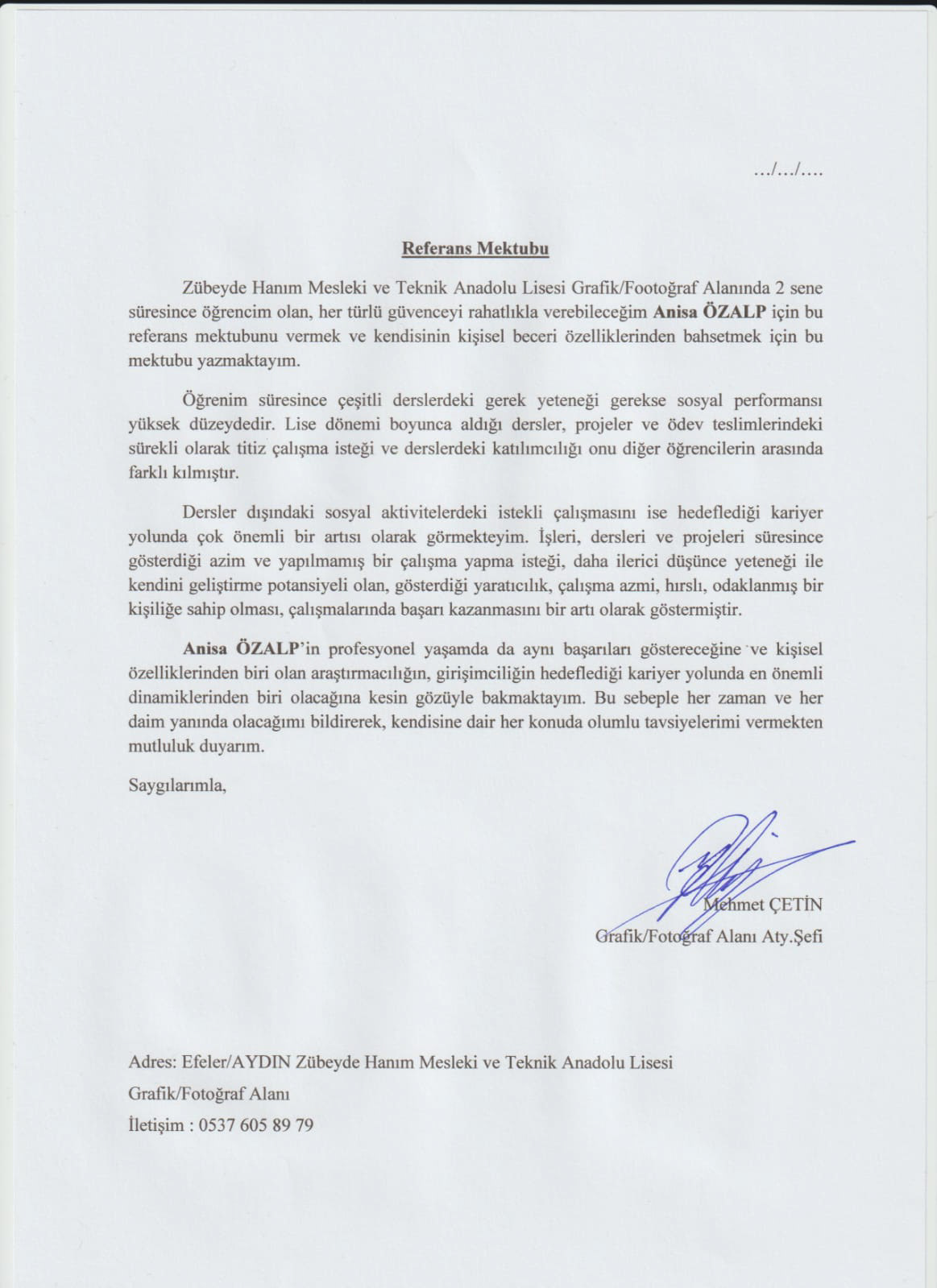 I am writing to provide a reference for Anisa Ozalp, who has been my student in the Graphics/Photography program at Zübeyde Hanım Vocational and Technical Anatolian High School for the past two years. During this time, Anisa consistently demonstrated high levels of ability and social aptitude in various courses. She consistently demonstrated a strong work ethic and active participation in lessons, projects, and assignments. In addition to her dedication to her studies, Anisa also displayed a willingness to engage in extracurricular activities and a clear focus on her career goals.
Anisa is a determined and ambitious individual with a talent for progressive thinking and creativity. She consistently demonstrates perseverance in her work and a desire to produce original content. These traits, combined with her successful academic record, make me confident that Anisa will continue to excel in her professional pursuits. I have no doubt that her determination, drive, and passion for research will serve her well as she embarks on her entrepreneurial career path.
In conclusion, I am happy to provide a positive reference for Anisa and am confident that she will continue to be a valuable asset in any professional setting. I am always happy to support her in any way I can.
Sincerely, Mehmet Cetin Graphic/Photography Area Workshop Chief Zübeyde Hanım Vocational and Technical Anatolian High School Efeler, Aydin
Referans Mektubu
Zübeyde Hanım Mesleki ve Teknik Anadolu Lisesi Grafik/Fotoğraf Alanında 2 sene süresince öğrencim olan, Anisa Özalp için bu referans mektubunu vermekten mutluluk duyarım. Anisa Özalp, lise dönemi boyunca aldığı dersler, projeler ve ödev teslimlerinde titiz çalışmayı ve derslerdeki katılımcılığıyla diğer öğrencilerin arasında farklı kılmıştır. Dersler dışındaki sosyal aktivitelerde de istekli çalışmasını ve hedeflediği kariyer yolunda önemli bir artı olarak görüyorum.
Anisa Özalp, işleri, dersleri ve projeleri süresince gösterdiği azim ve yapılmamış bir çalışma yapma isteği, daha ilerici düşünce ve yeteneğiyle kendini potansiyeli olan, yaratıcılık, çalışma azmi ve hırslı odaklanmış bir kişiliğe sahip. Bu özellikleriyle çalışmalarında başarı kazandığına inanıyorum.
Profesyonel yaşamda da aynı başarıları göstereceğine ve kişisel özelliklerinden biri olan araştırmacılık ve girişimciliğin hedeflediği kariyer yolunda en önemli dinamiklerinden biri olacağına kesin gözüyle bakıyorum. Bu sebeble, Anisa Özalp'in her zaman yanımda olacağımı bildirirken, kendine dair her konuda olumlu tavsiyelerimi vermekten mutluluk duyarım.
Saygılarımla, 
Mehmet Çetin - Grafik/ Fotoğraf Alanı Atölye Şefi Adres: Efeler/Aydın Zübeyde Hanim Mesleki ve Teknik Anadolu Lisesi.
My Projects in the School

The city of Aydın is situated in a prime location that greatly contributes to the country's tourism industry. Agriculture is also a significant source of income for the city, with figs being the most well-known crop. However, other agricultural products are also produced intensively, and the city has some light industries. In addition to figs and olive oil, traditional crops such as cotton are also grown in the area.
Aydın is located in the lower valley of the Büyük Menderes River, also known as the ancient Meander River, and occupies the region extending from the uplands of the valley to the coastline. This area has long been renowned for its fertility and productivity, and Aydin itself has a rich history that has been influenced by various civilizations such as the Argives, Trallians, Lydia, Athens, Sparta, Romans, Greeks, Ottomans, and Turkish.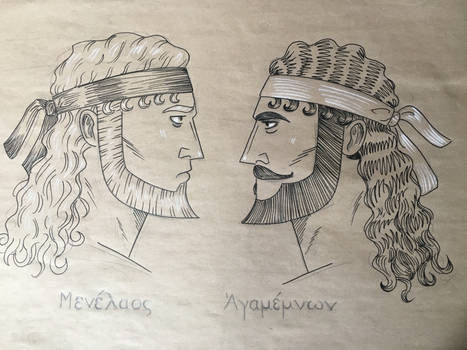 You are welcome to view and learn from the creative process behind some of my art by watching my Speedpaint videos and other content on my
YouTube channel
. If you have a specific artwork in mind that you would like me to create for you, please do not hesitate to
reach out
to me regarding commissioning a piece. I would be delighted to collaborate with you.
#T.C. MİLLÎ EĞİTİM BAKANLIĞI
AYDIN/EFELER-Zübeyde Hanım Mesleki ve Teknik Anadolu Lisesi