TEZHIP, also known as illumination and gilding, is an ancient decorative art form that involves turning designs into gold, typically using gold leaf. It is a type of zentangle-like art that features symmetry and snowflake patterns, and it was originally applied to the edges of calligraphic texts. Tezhip has a long history, with roots dating back to the 9th century among the Uyghur people. It was later adopted by the Seljuks in Anatolia and peaked during the Ottoman Empire. In the 15th century, Mameluke artists developed their own style of Tezhip, which was also popular in areas such as Herat, Hive, Bukhara, and Samarkand under Timur rule.

To create Tezhip art, a thin gold leaf is used and is made extremely fine through a process of powdering in water and mixing with gelatine. It is then brought to a fine thickness for use in the artwork.
TEZHIP, also known as illumination and gilding, is an ancient decorative art form that involves turning designs into gold, typically through the use of the gold leaf. To create Tezhip art, an artist called a 'müzehhip' first uses a needle to impress the design onto paper attached to a hard base, such as boxwood or zinc. The paper is then placed on the material to be decorated and filled with sticky, black powder. The design is then rounded out and filled with gold leaf or paint, and the design is left behind when the paper is removed. Both religious and non-religious books can be illuminated, as well as sheets for albums called 'levha', which feature illuminated calligraphy, religious texts, and decorative drawings. In the 18th century, new ornamental motifs were introduced, including three-dimensional, naturalistic floral designs influenced by Western art. Today, there are many skilled Tezhip artists, including Gülnur Duran, Çiçek Derman, Şahin İnalöz, Cahide Keskiner, Ülker Erke, Melek Anter, and Münevver Üçer.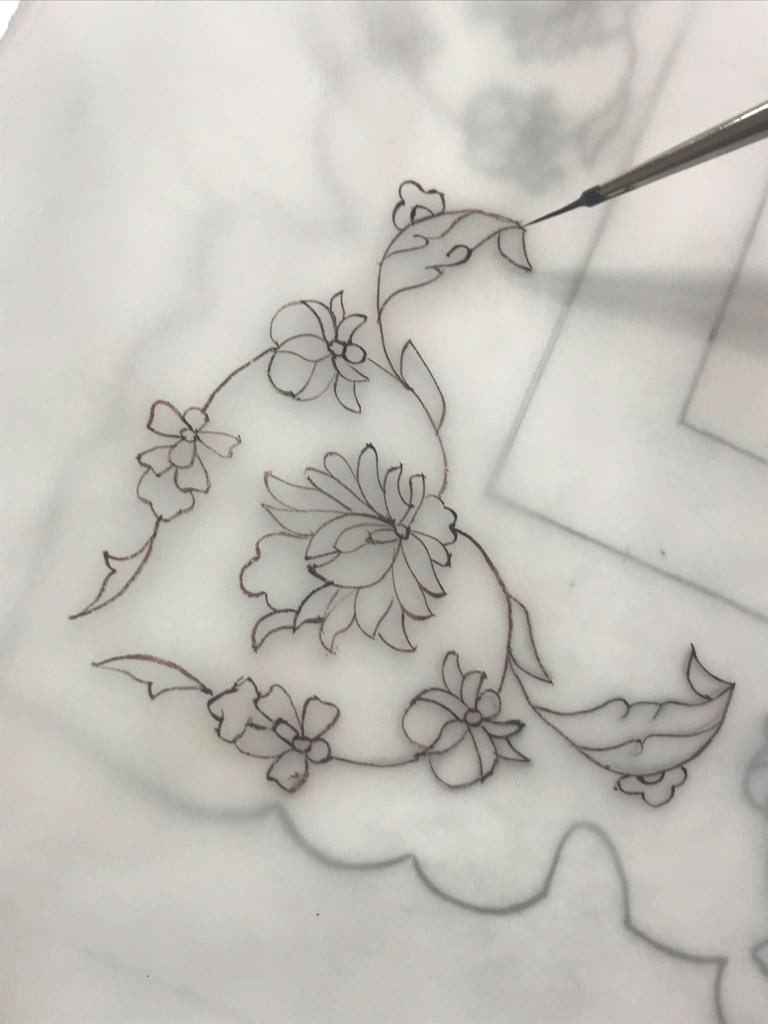 FLOWER TEZHIP MAKING PROCESS
In this piece, I combine various and diverse elements and symbols of tezhip into one. In the middle, there is a classic tezhip flower.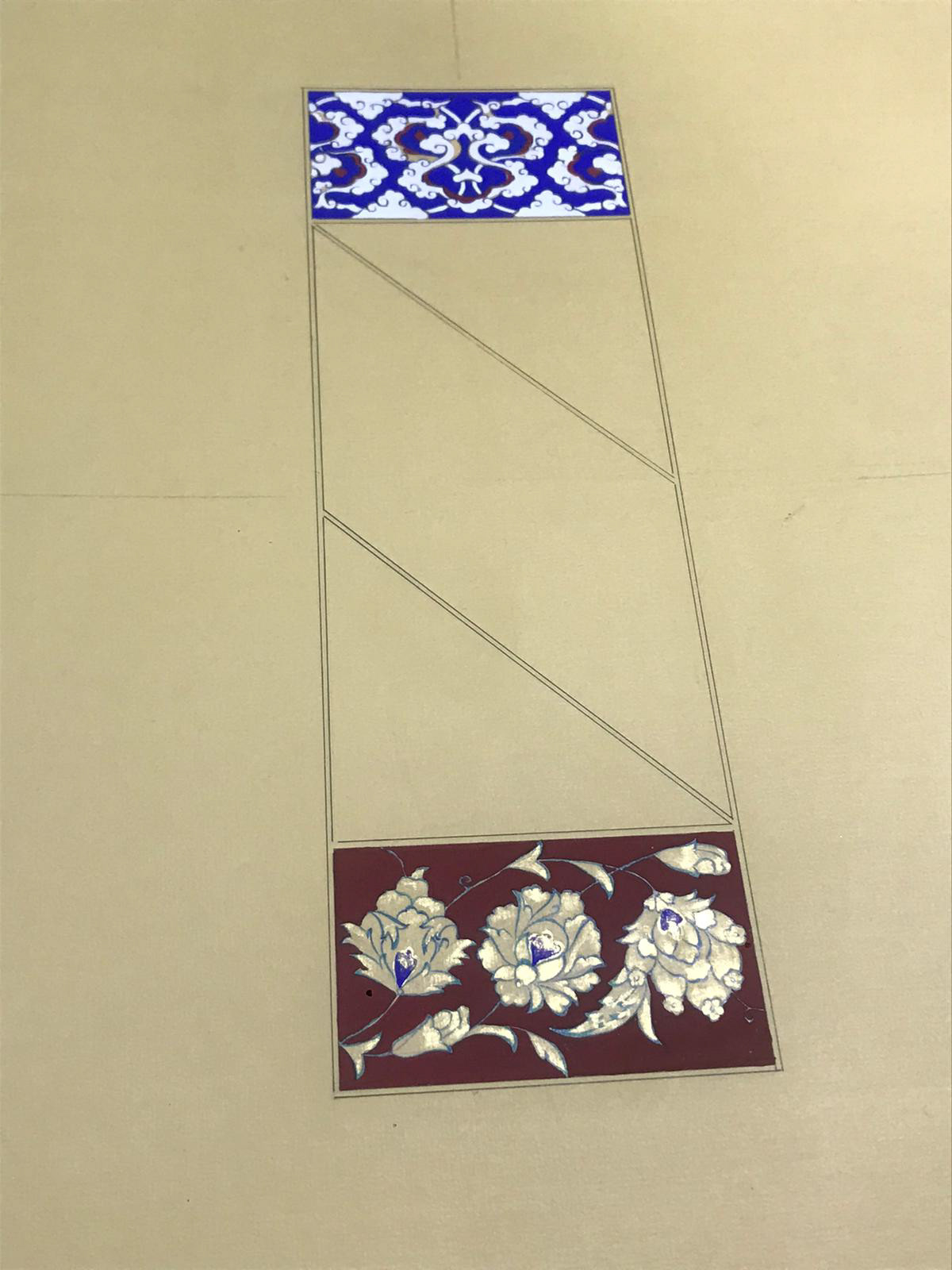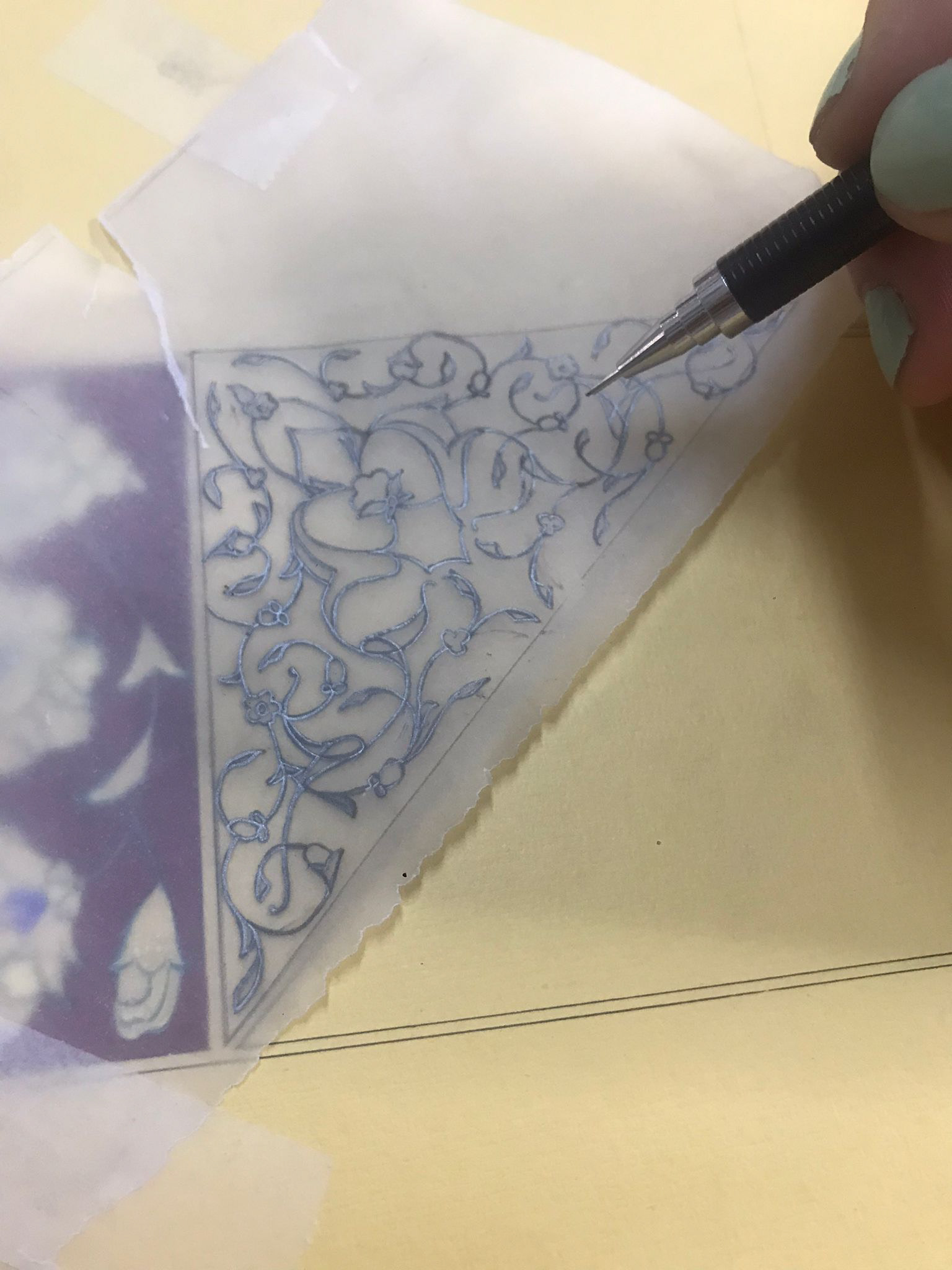 Shukufe is an artistic technique that employs flower motifs to create breathtakingly beautiful works of art. The term "shukufe" refers to the unopened flowers and buds that serve as the inspiration for these intricate designs. The rose, known for its delicate petals and intoxicating fragrance, is particularly revered among poets and artists as the ultimate symbol of love and beauty. This regal flower is sometimes referred to as the "sultan of flowers," a title that speaks to its majestic presence.
The process of creating shukufe art can be time-consuming, as it involves building up layers of color through repetitive brushstrokes. This technique, known as shading, results in a gradual gradient of color that adds depth and dimension to the work. While it may be a slow and tedious process, the end result is a seamless and stunning work of art that is well worth the effort. Whether incorporated into a painting, a piece of poetry, or a decorative piece of art, shukufe and its evocative flower motifs are sure to add a touch of sophistication and elegance to any piece.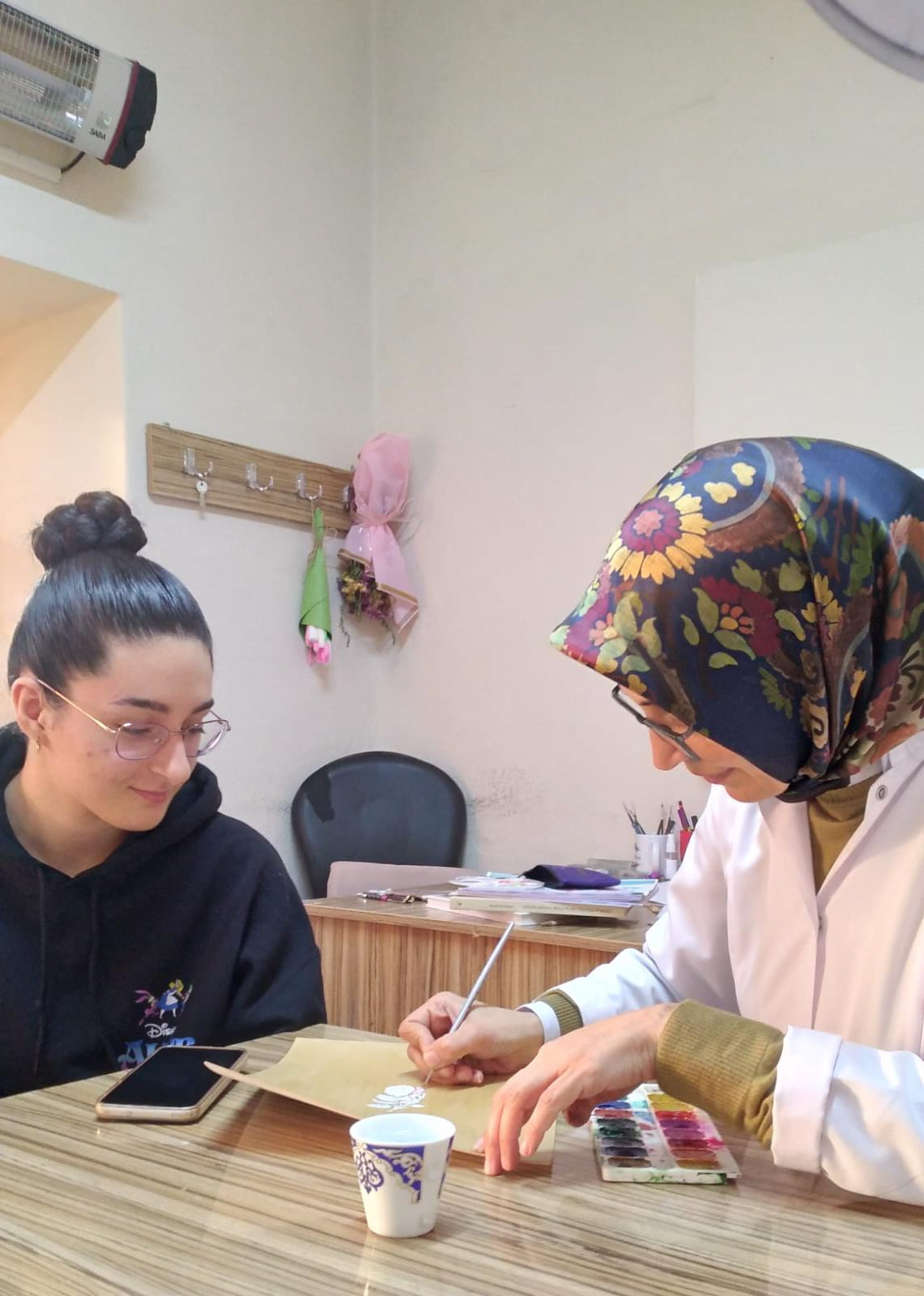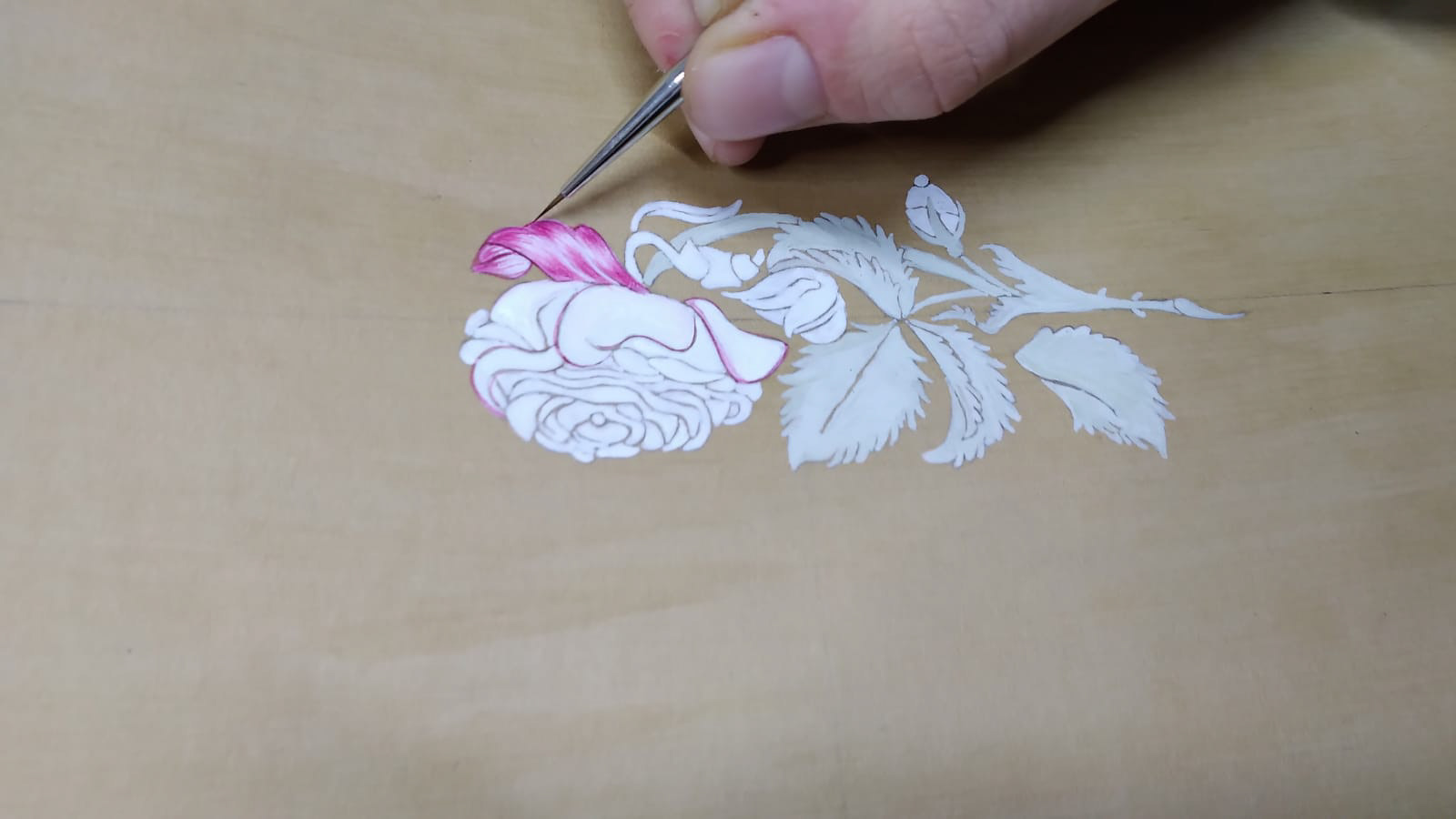 Natural Aher making recipe
  - 1 teaspoon of water
  - 2 teaspoons of starch
  - Half a teaspoon of gelatin 
  - 1 quantity of alum
 
Cooked until a custard-like consistency
Does not deteriorate when placed on raw cardboard and keeps insects away. Use this glue while placing the artwork. It makes it easy to clean the paint.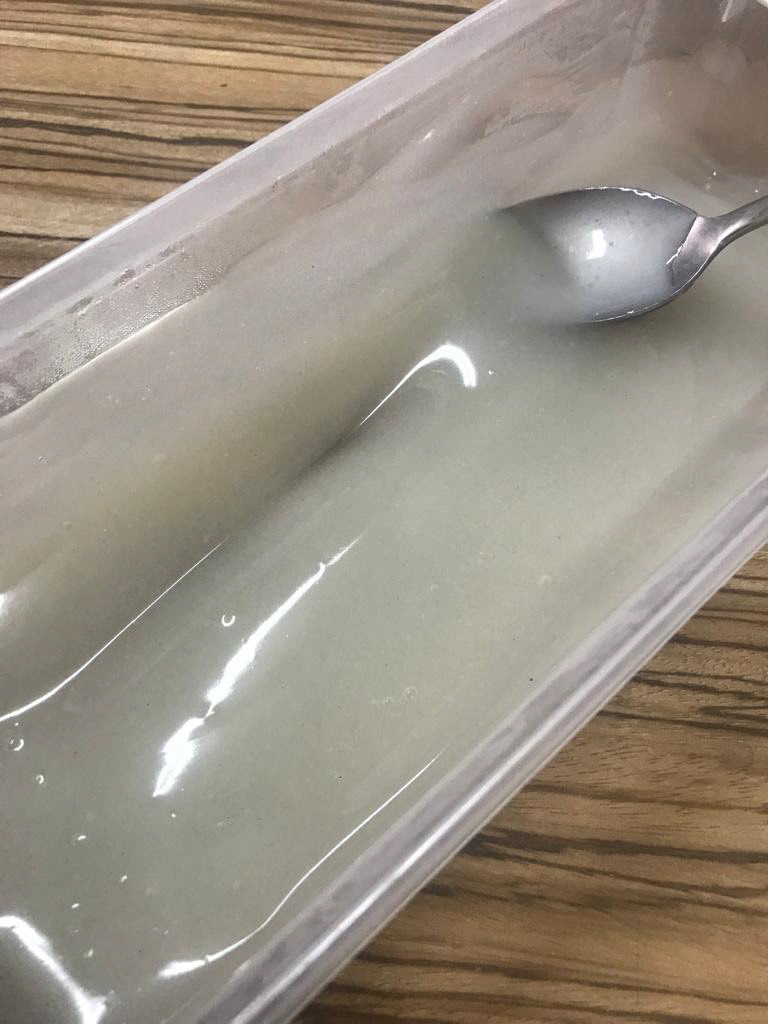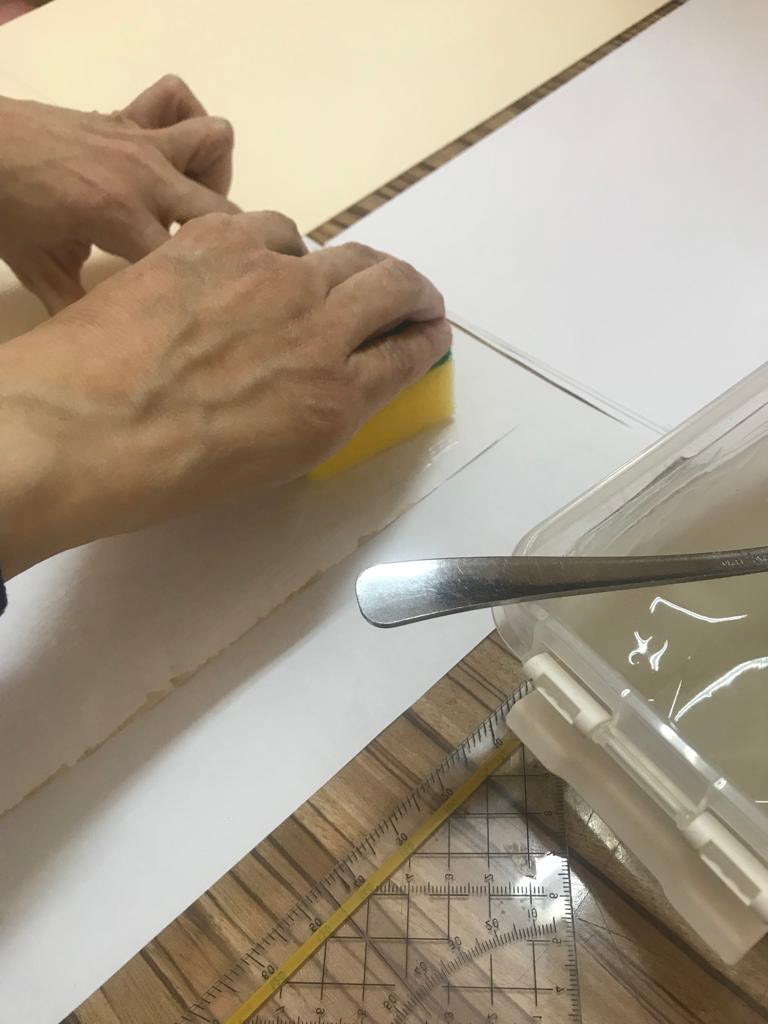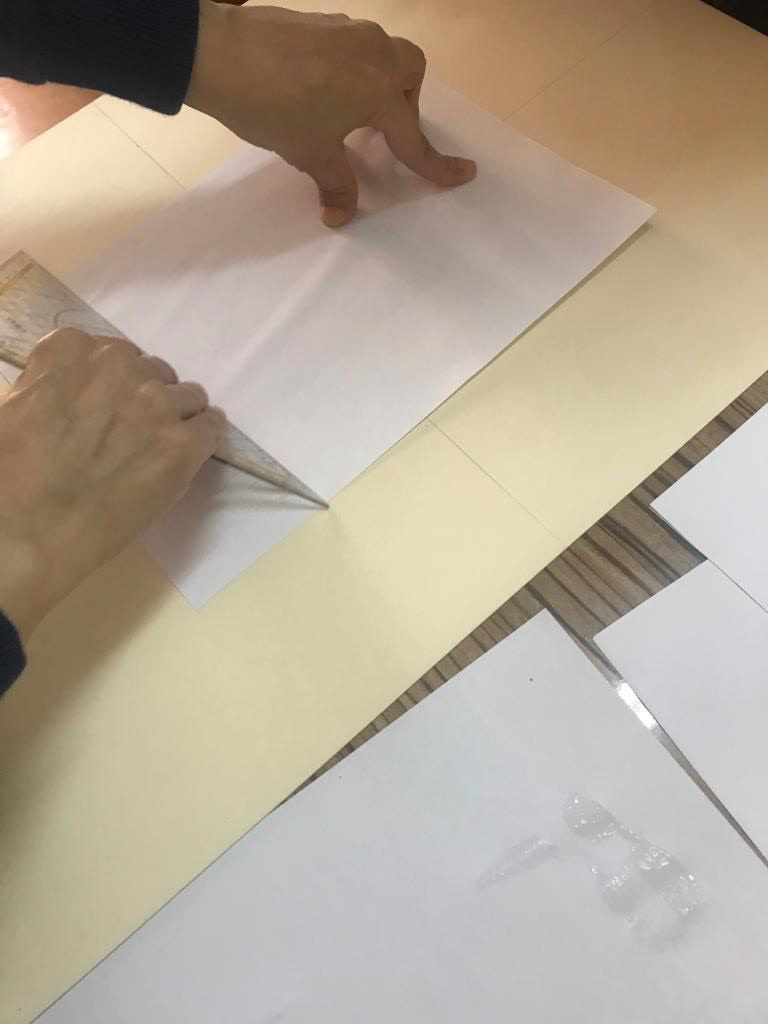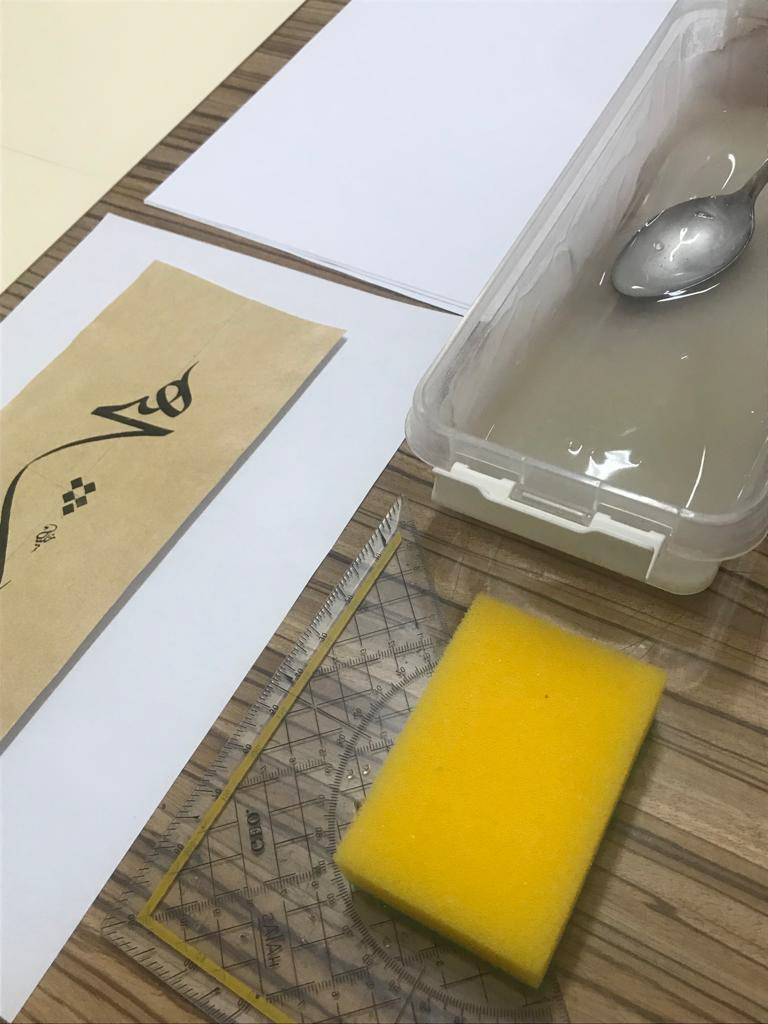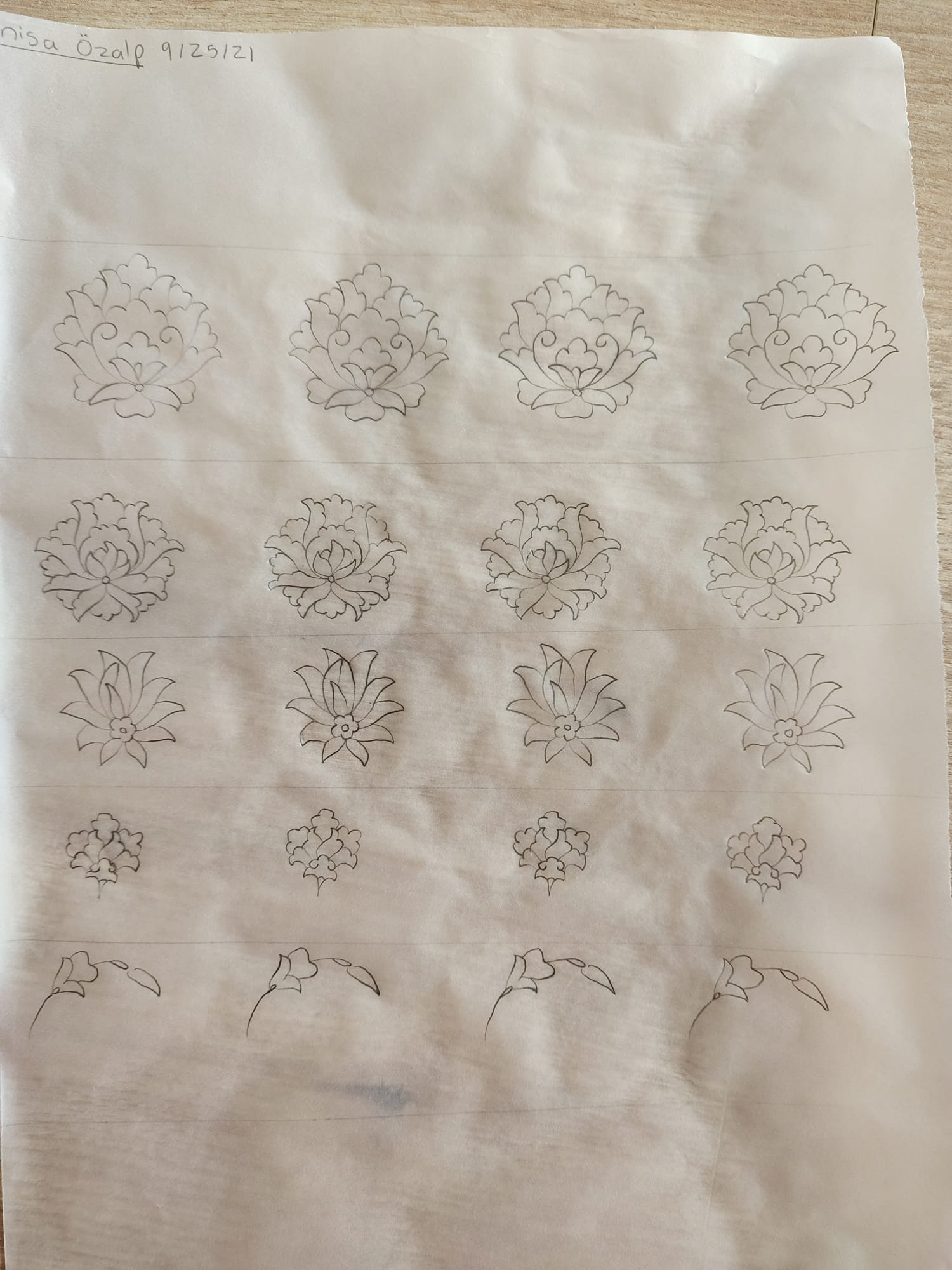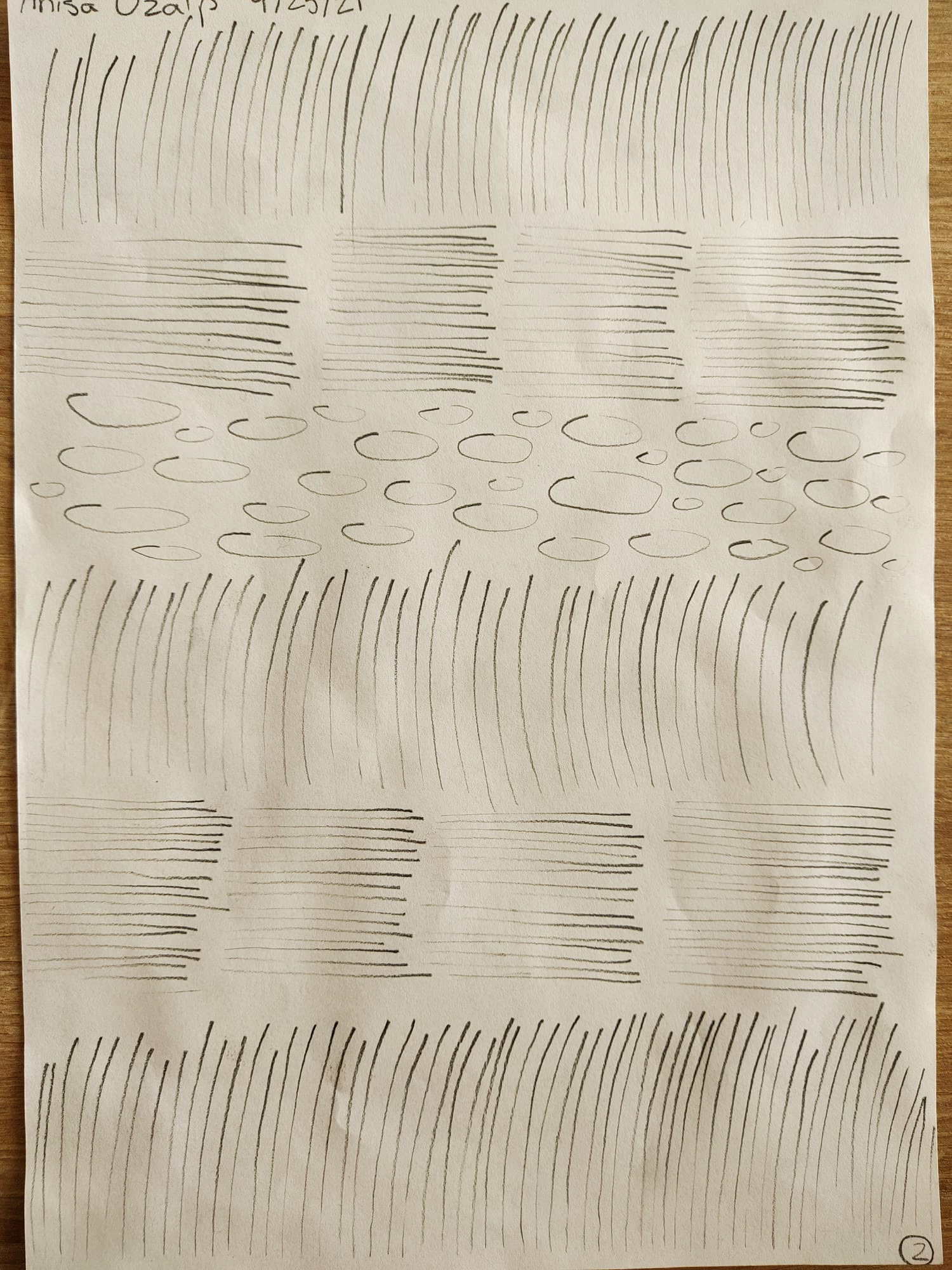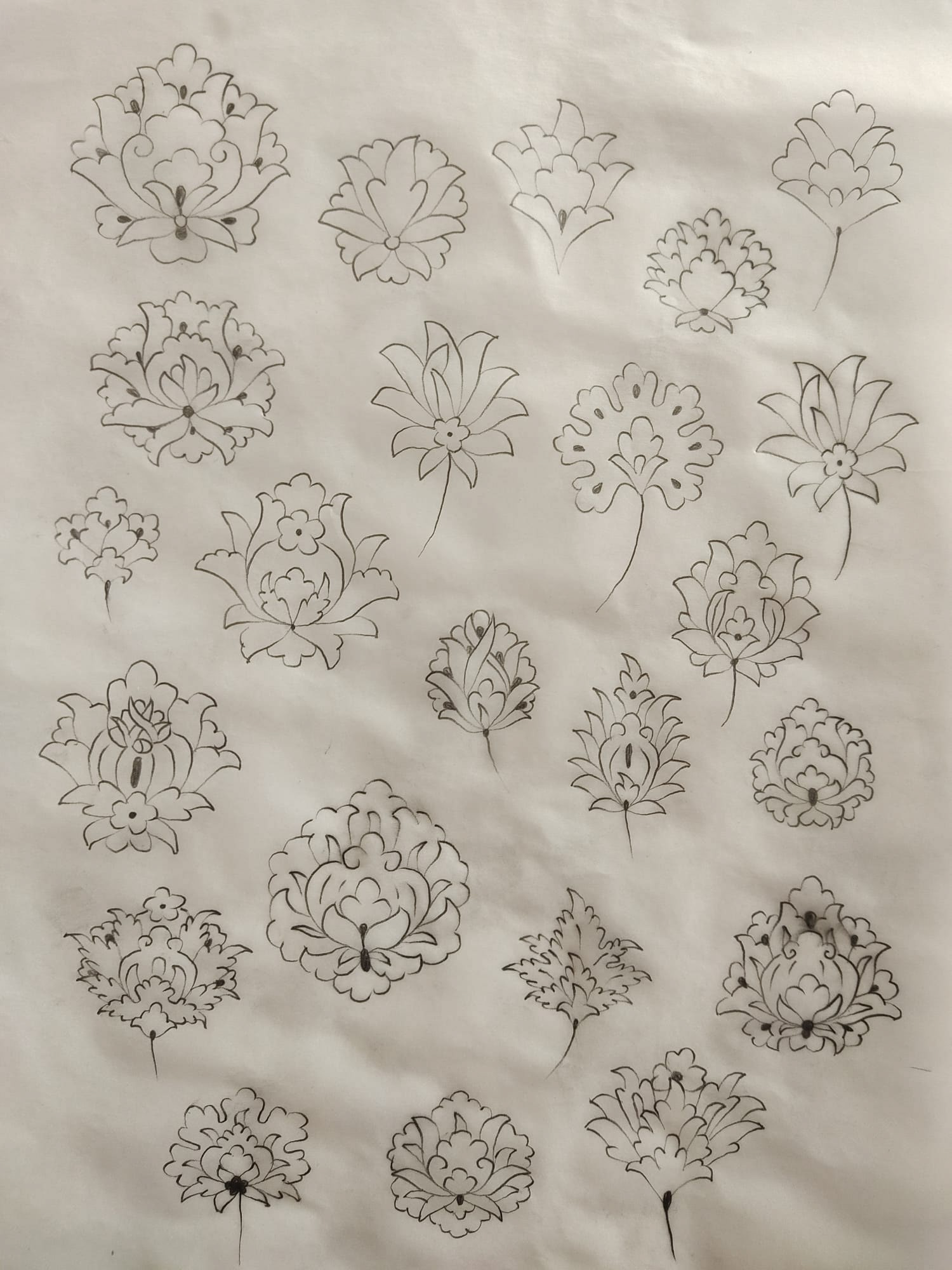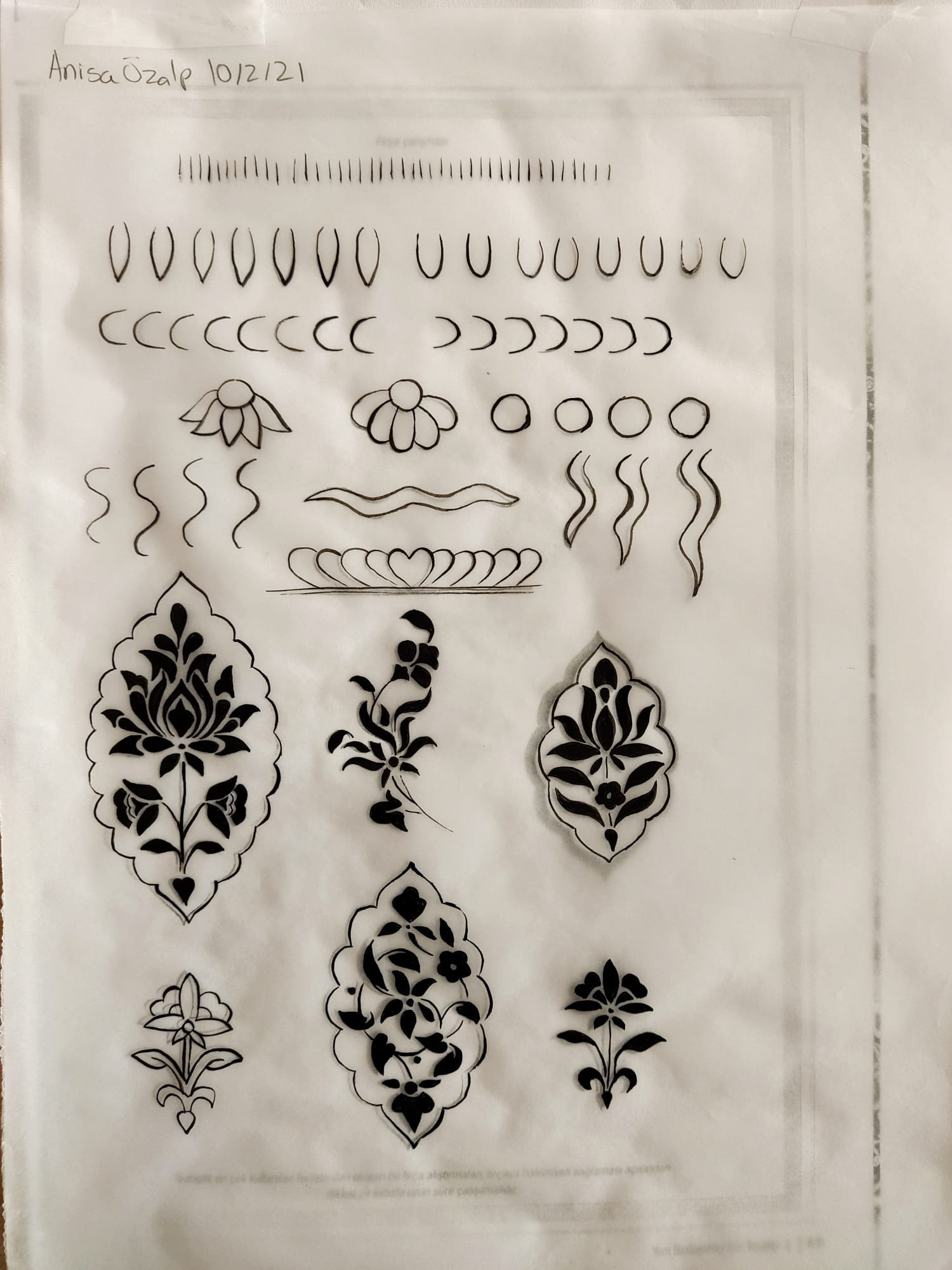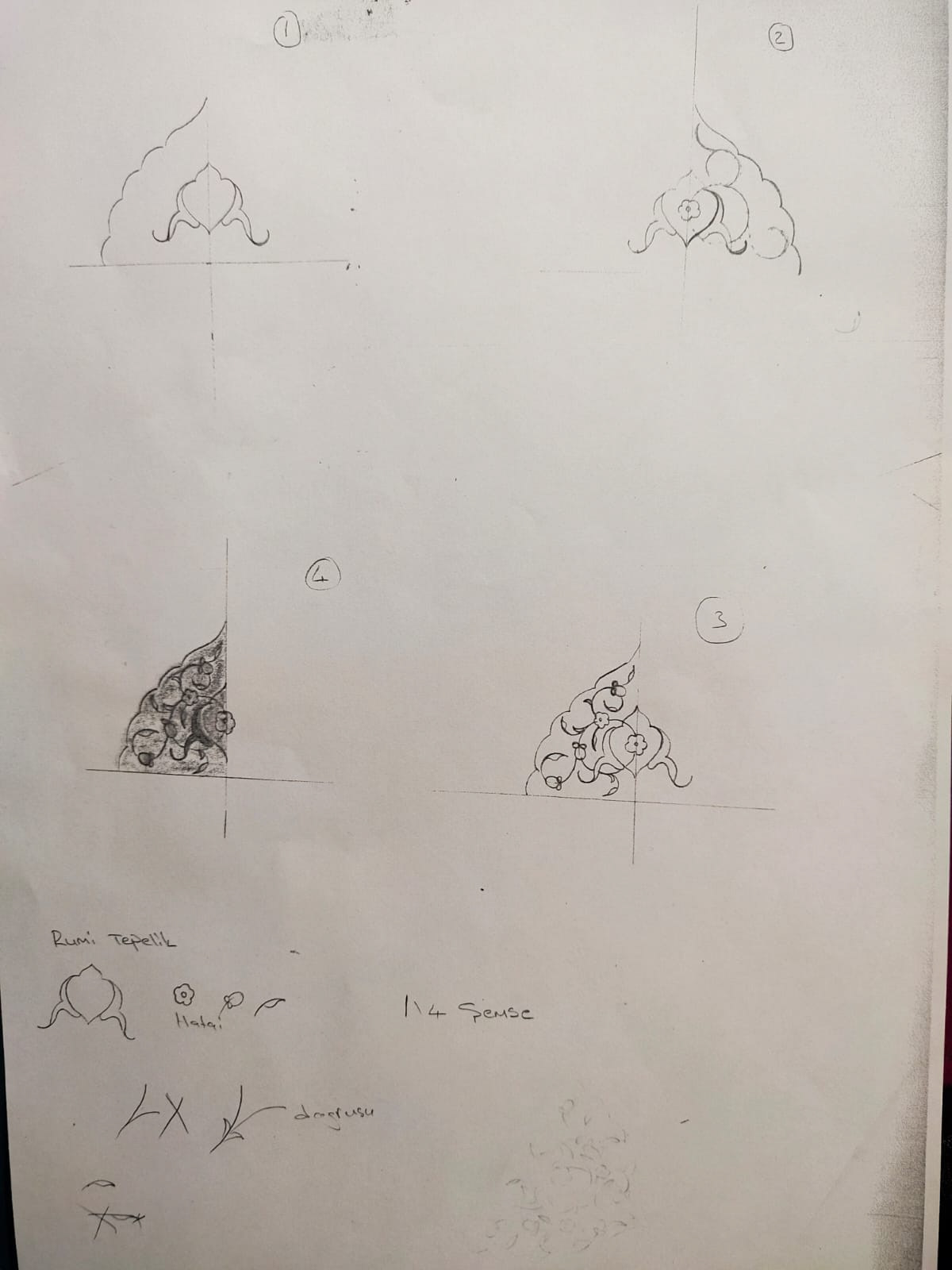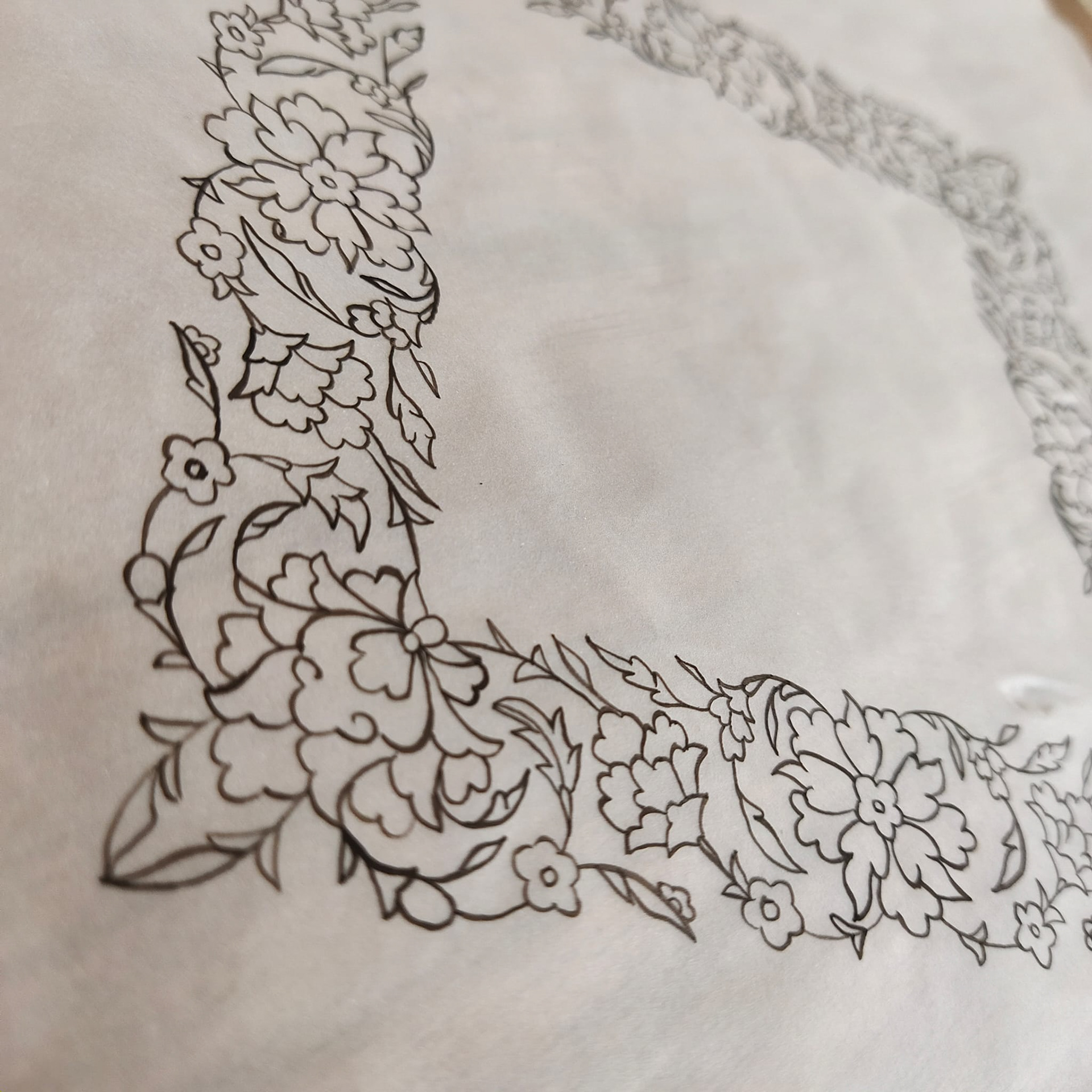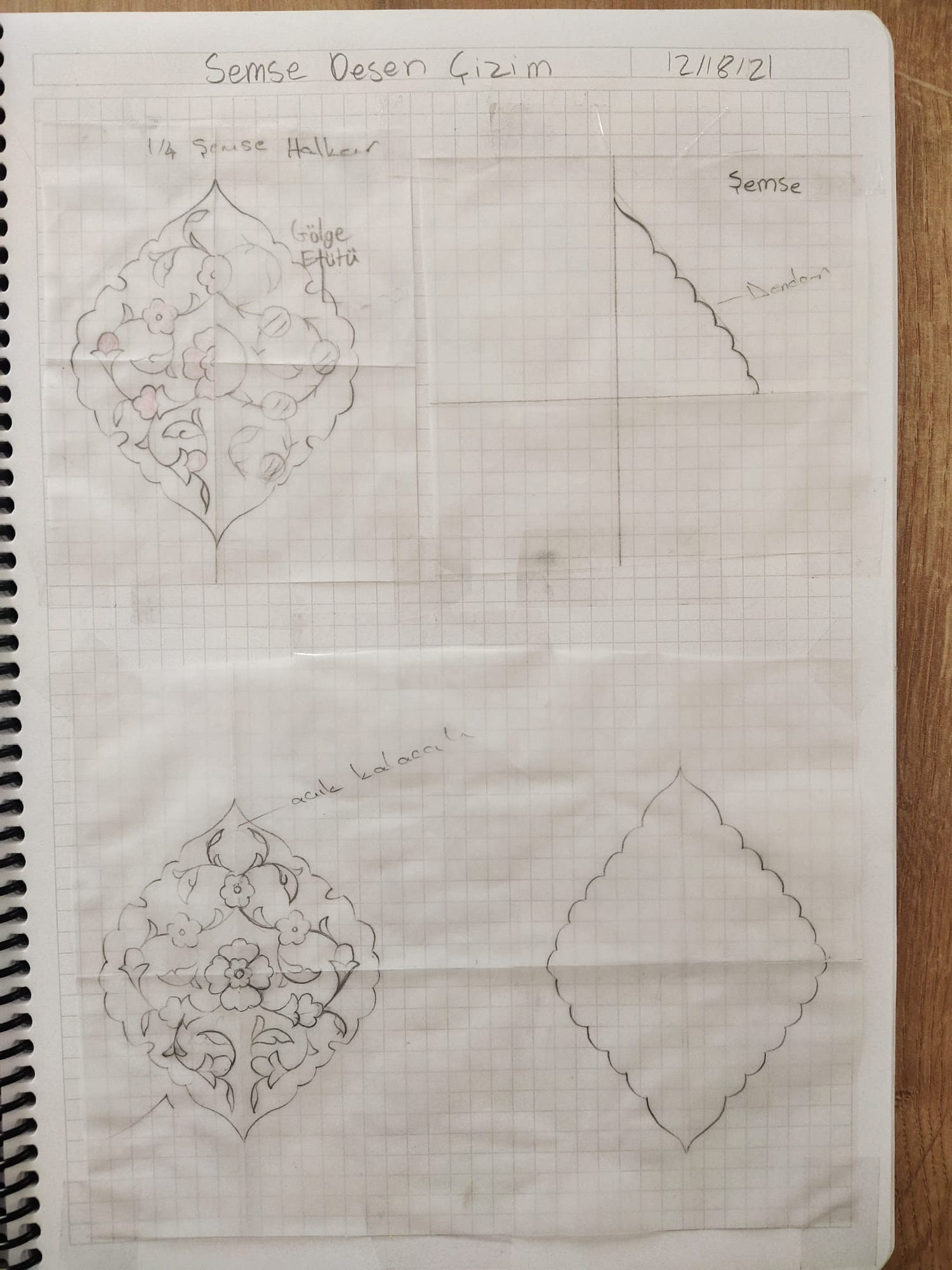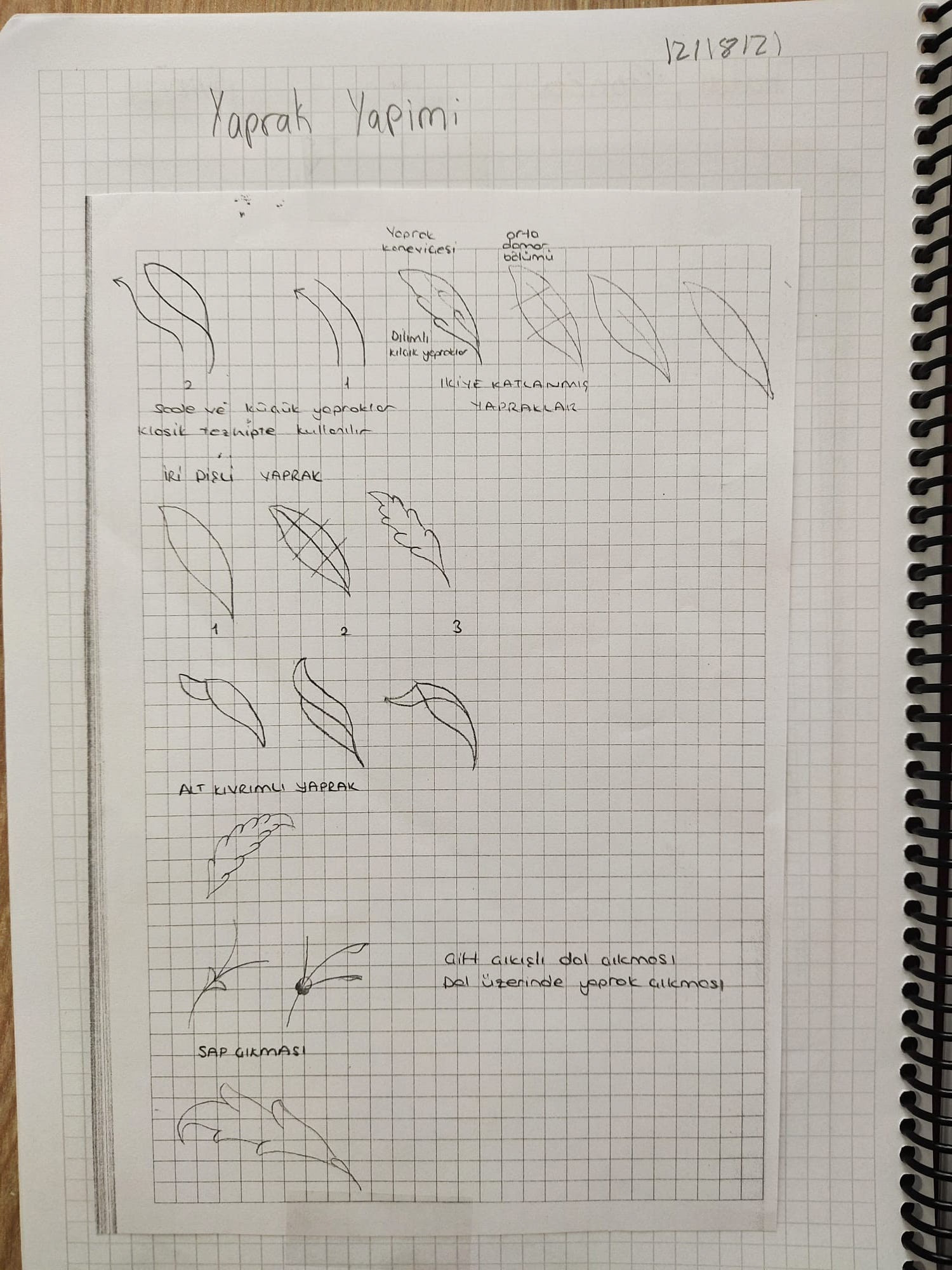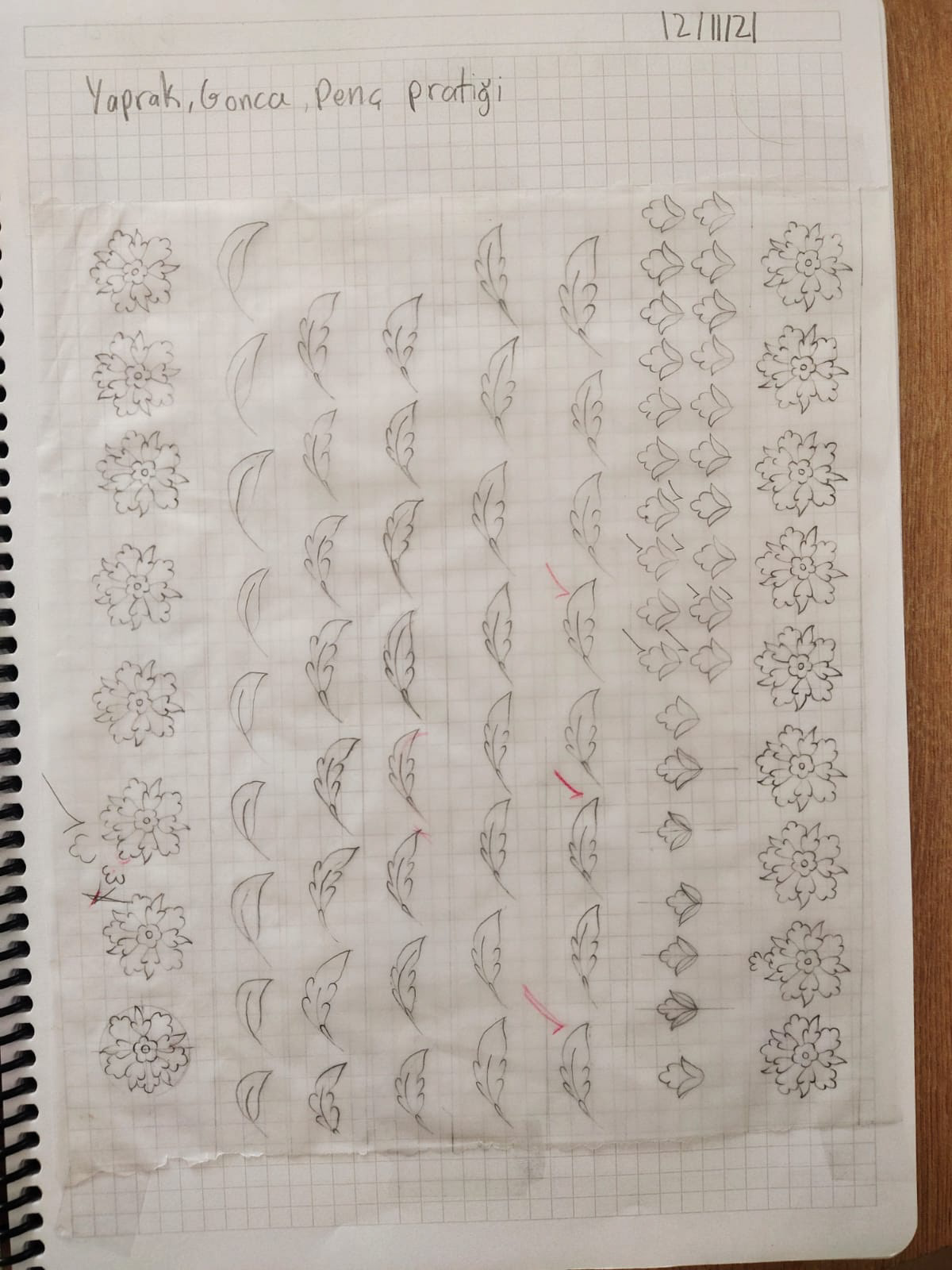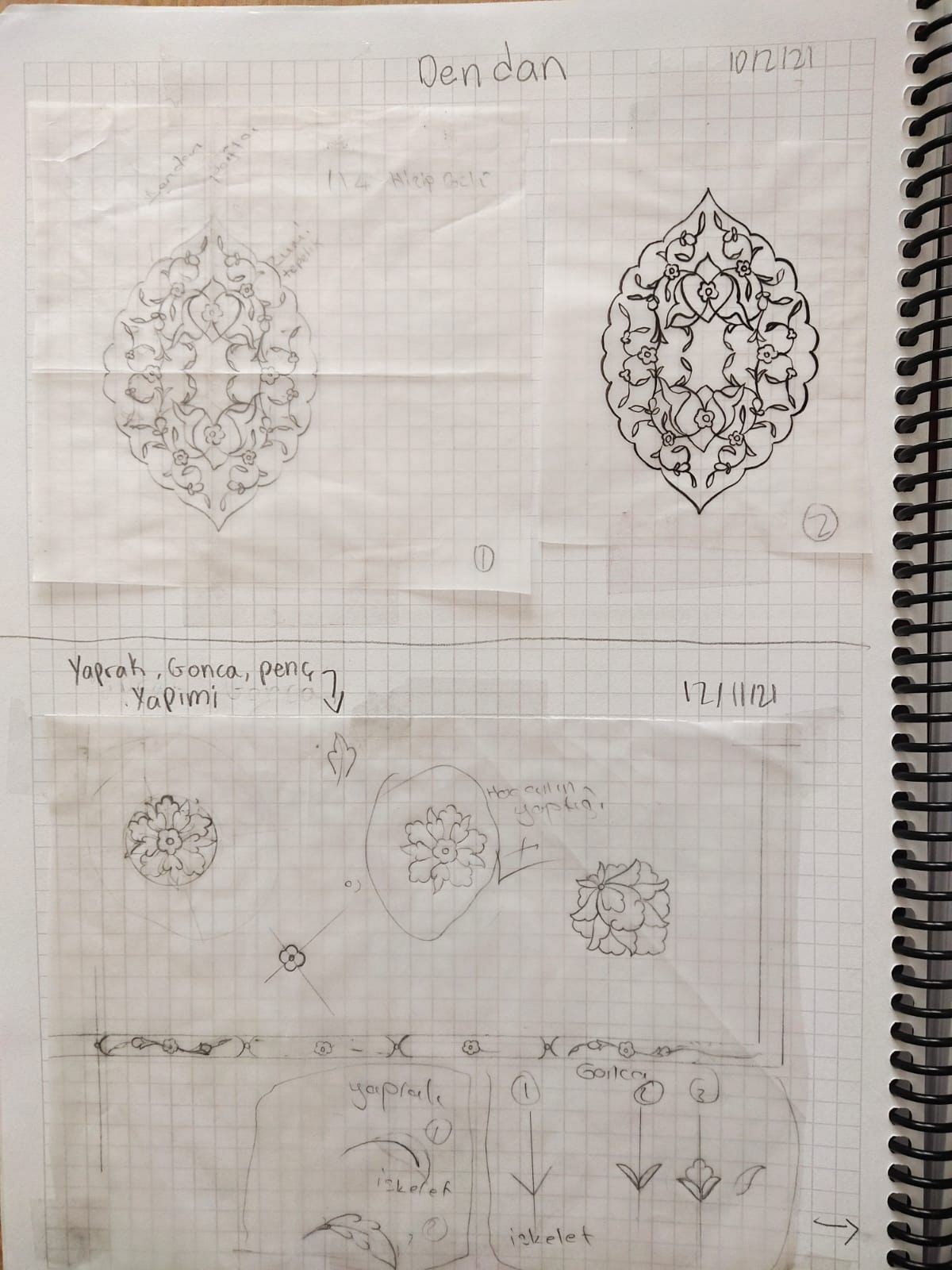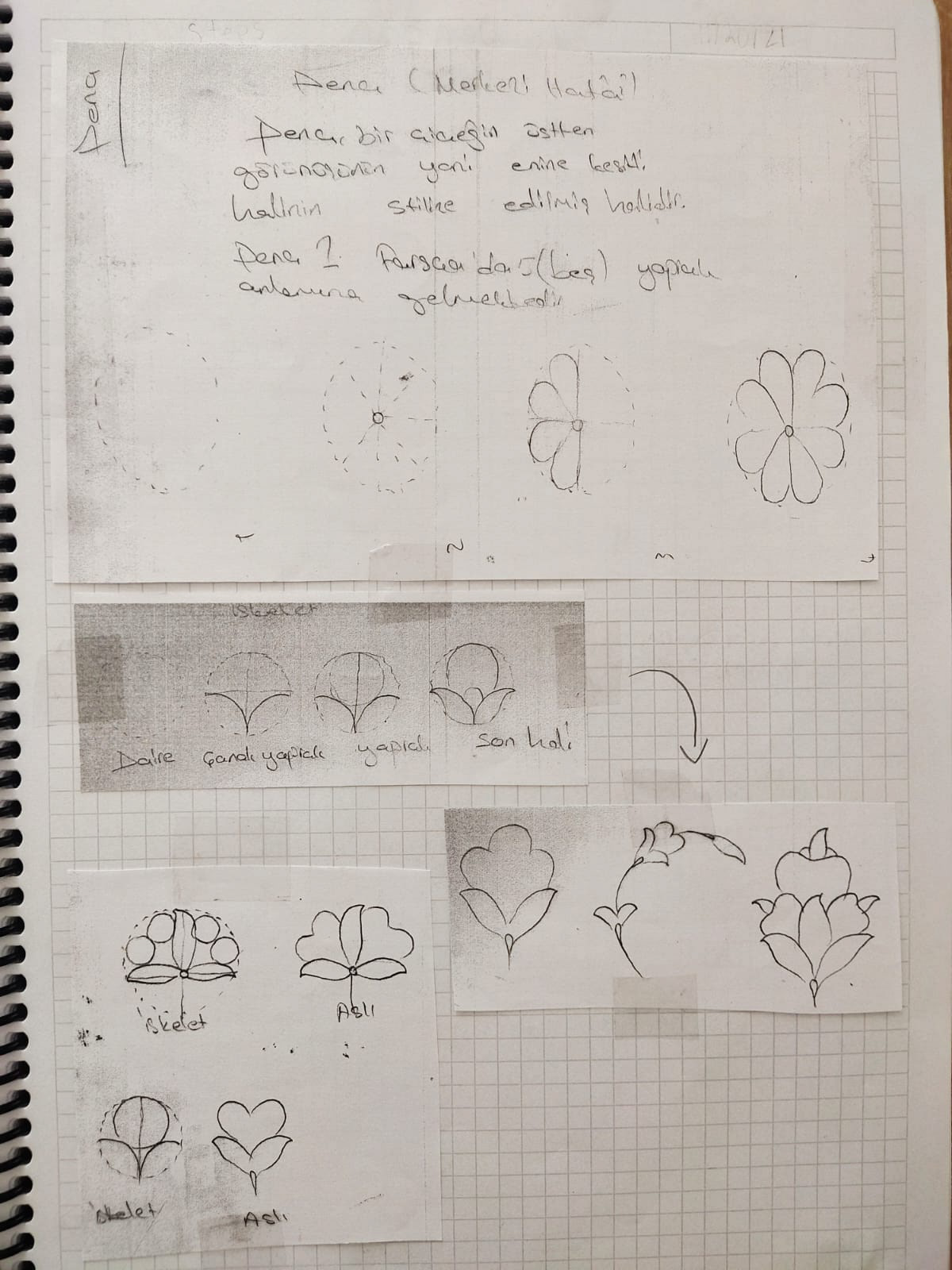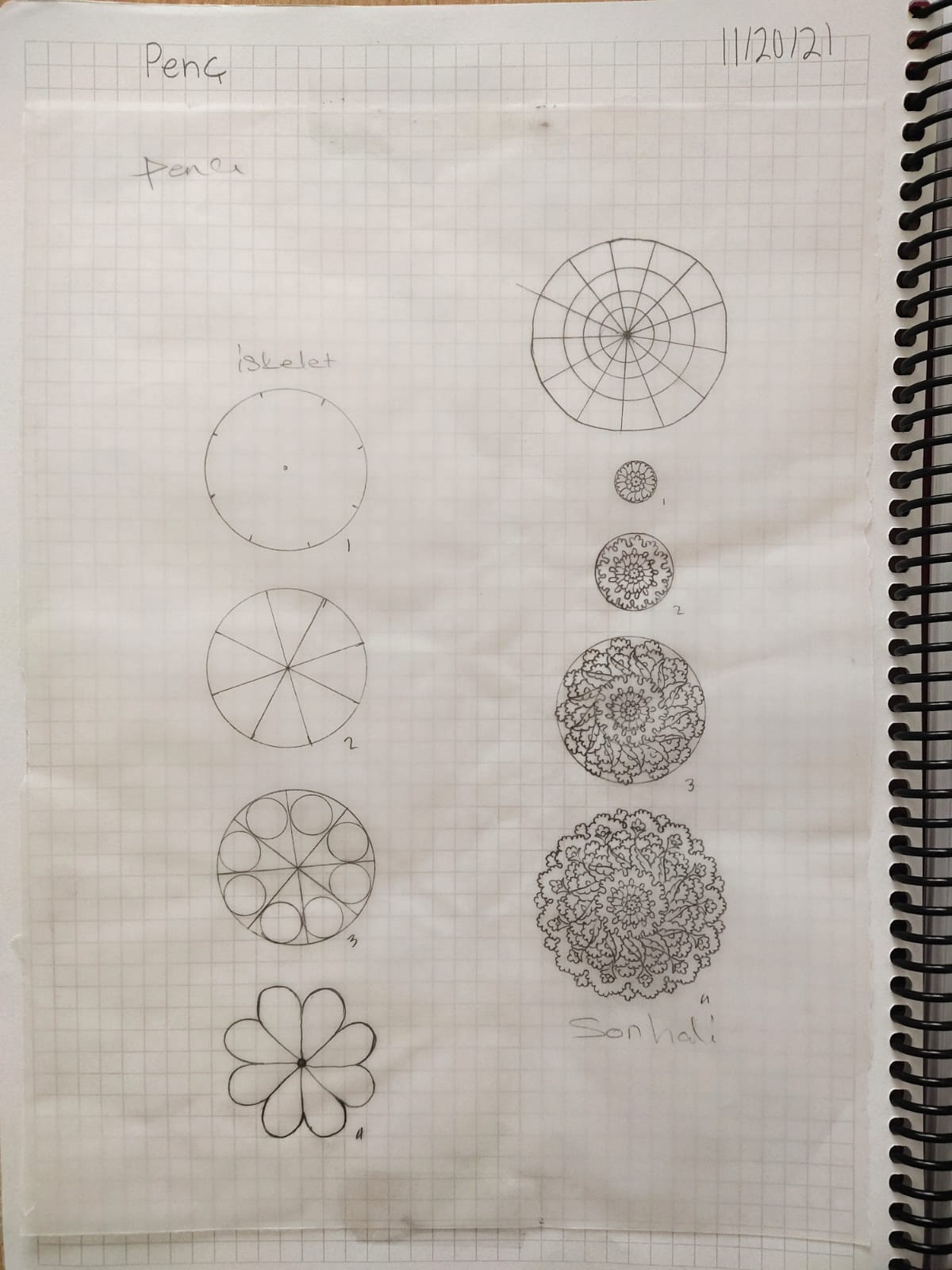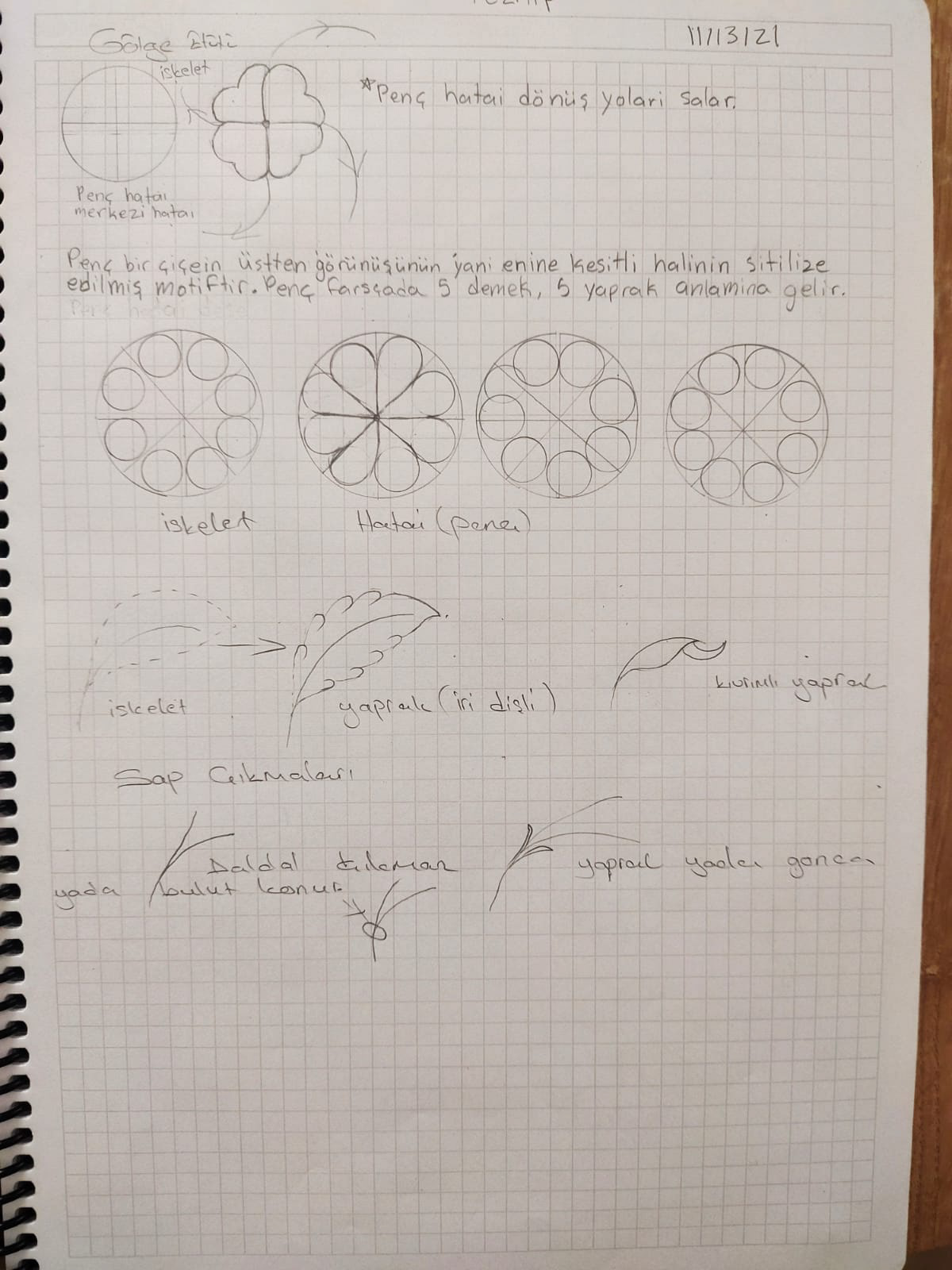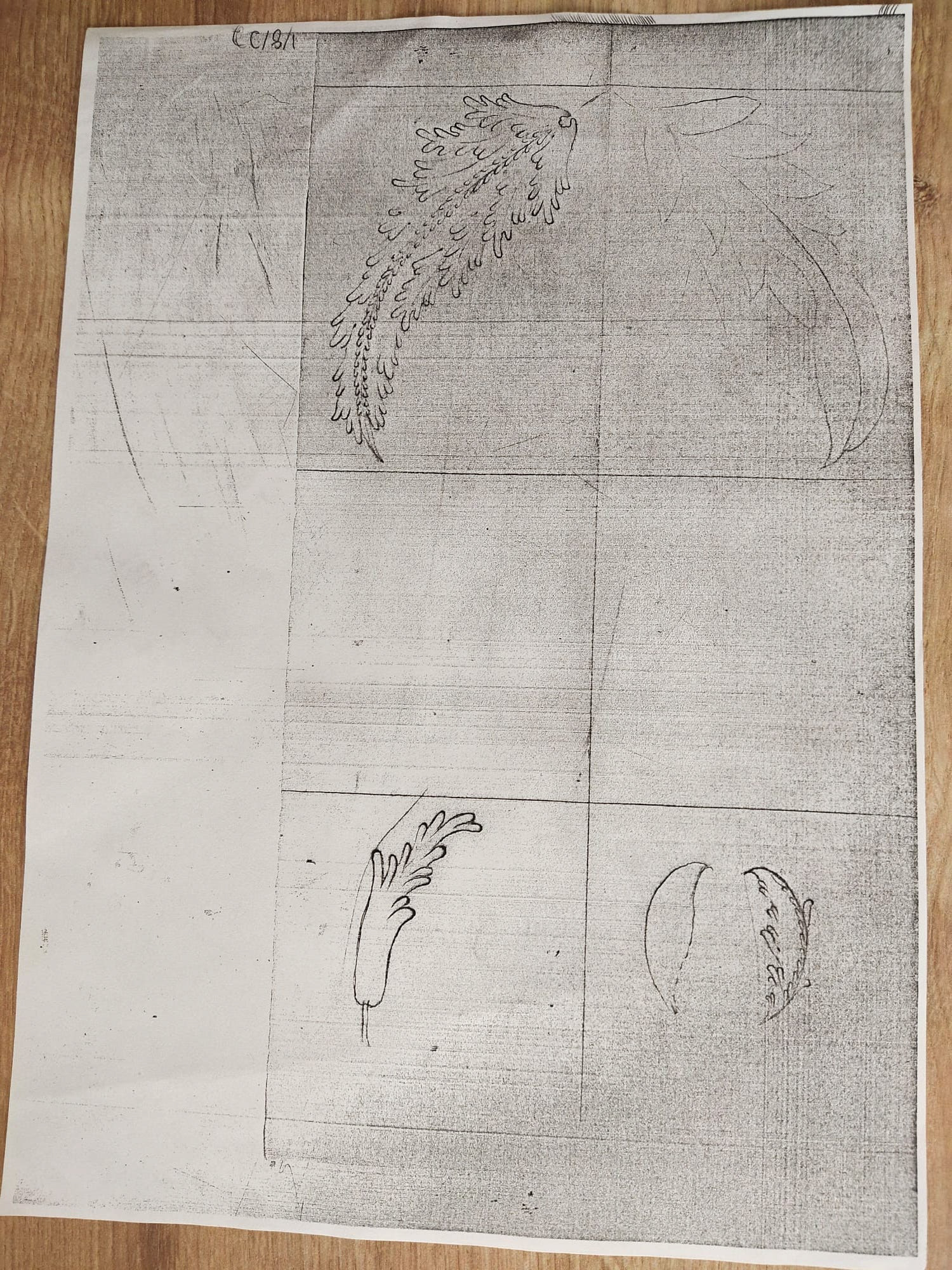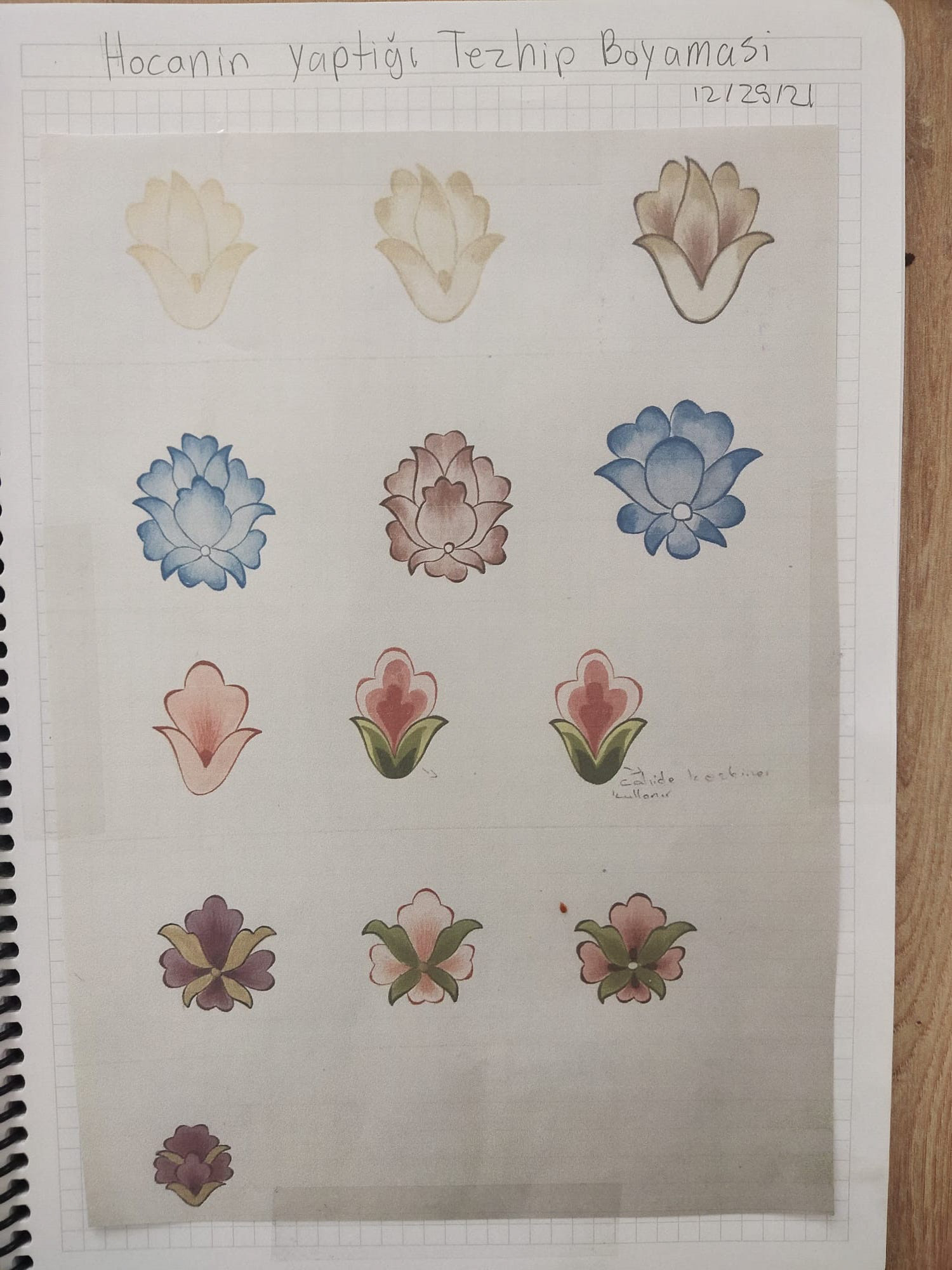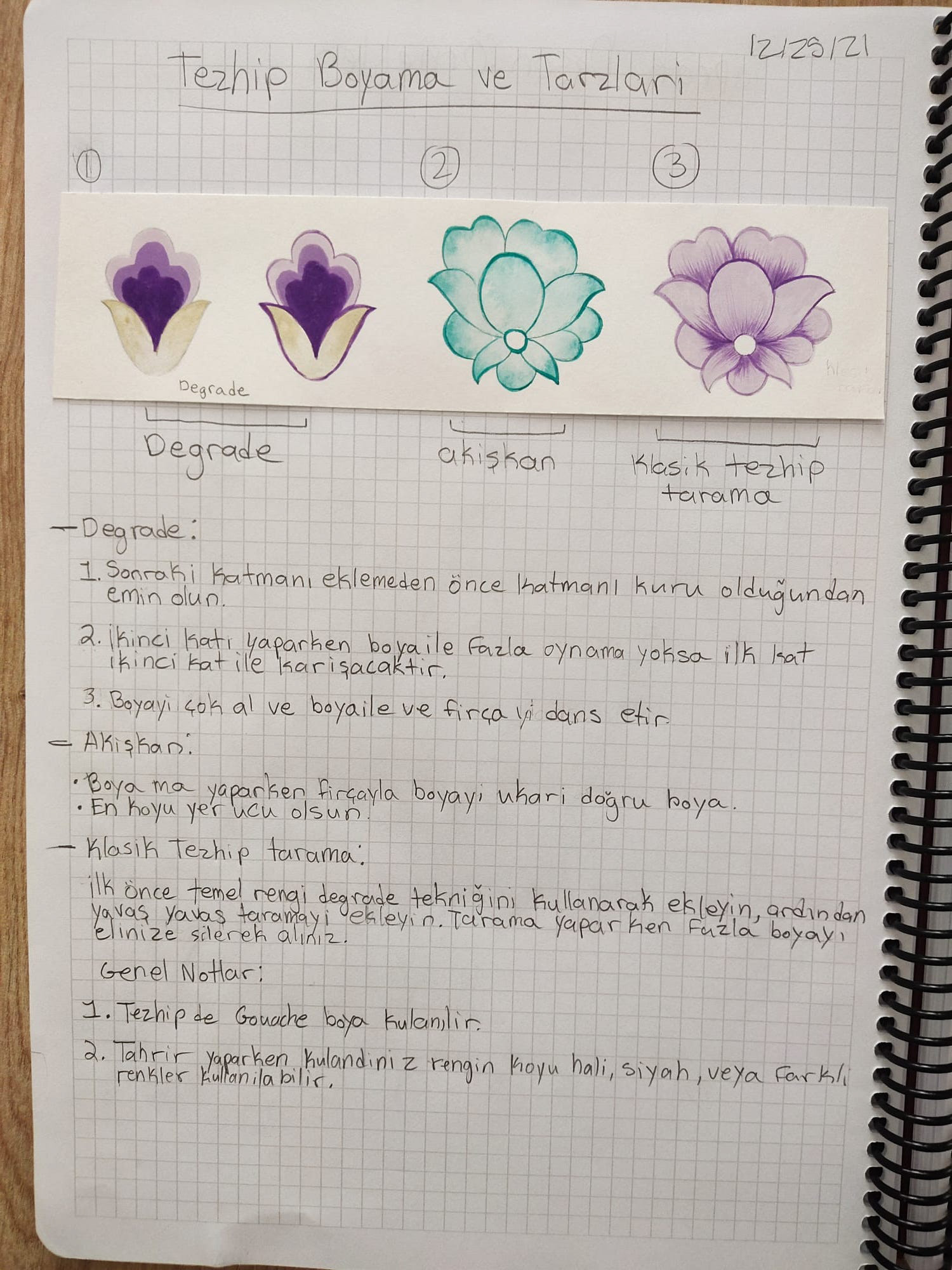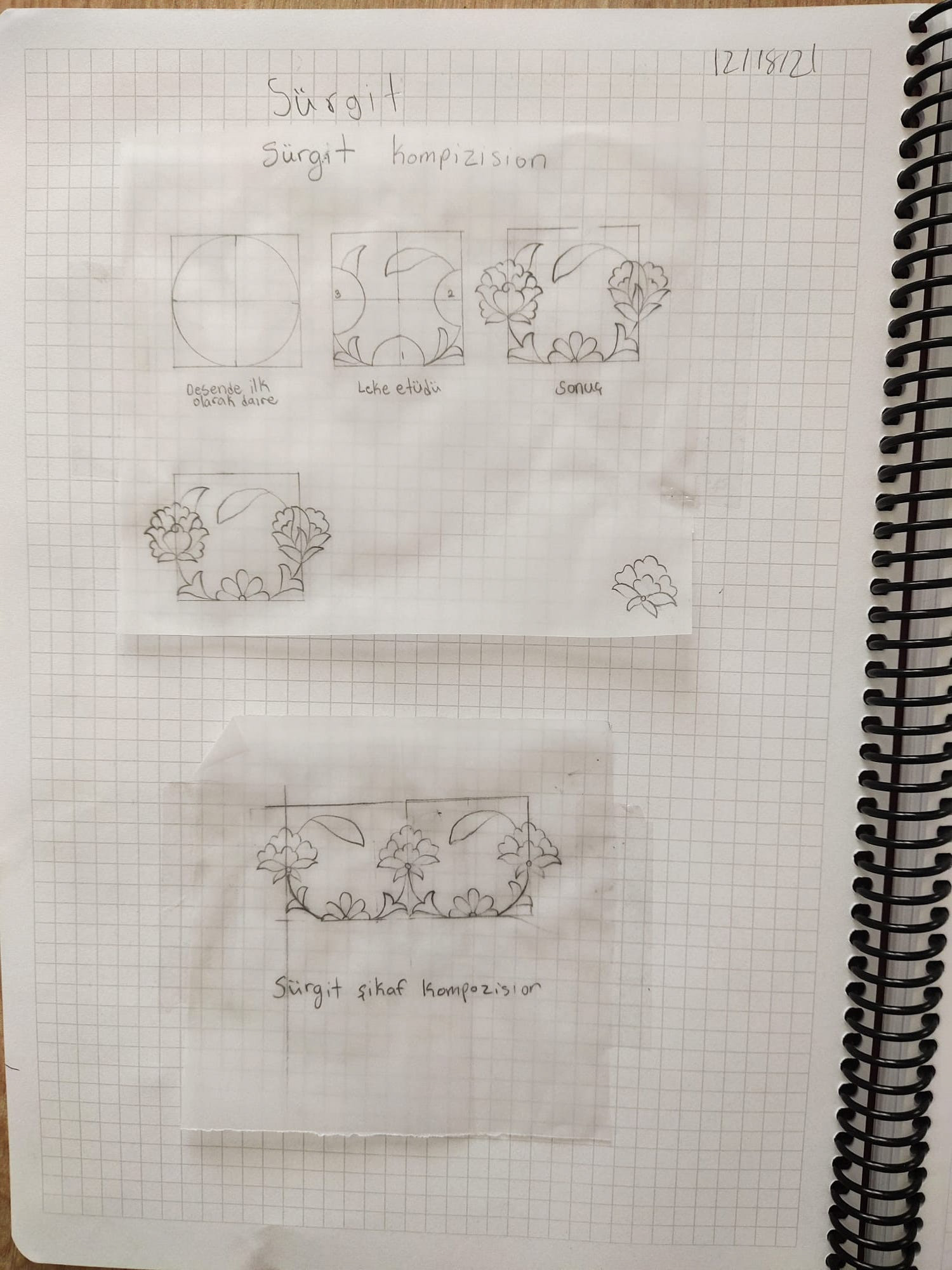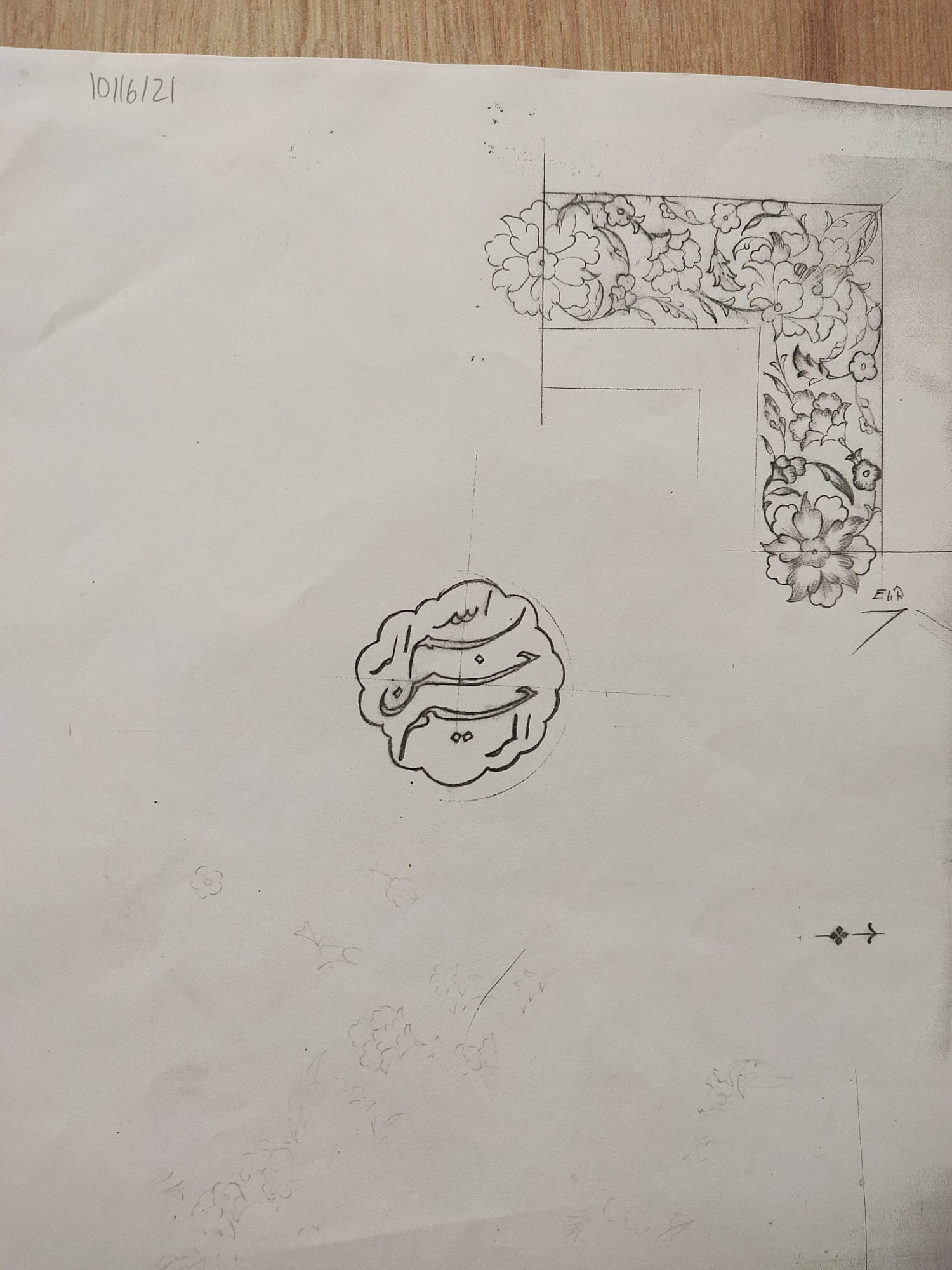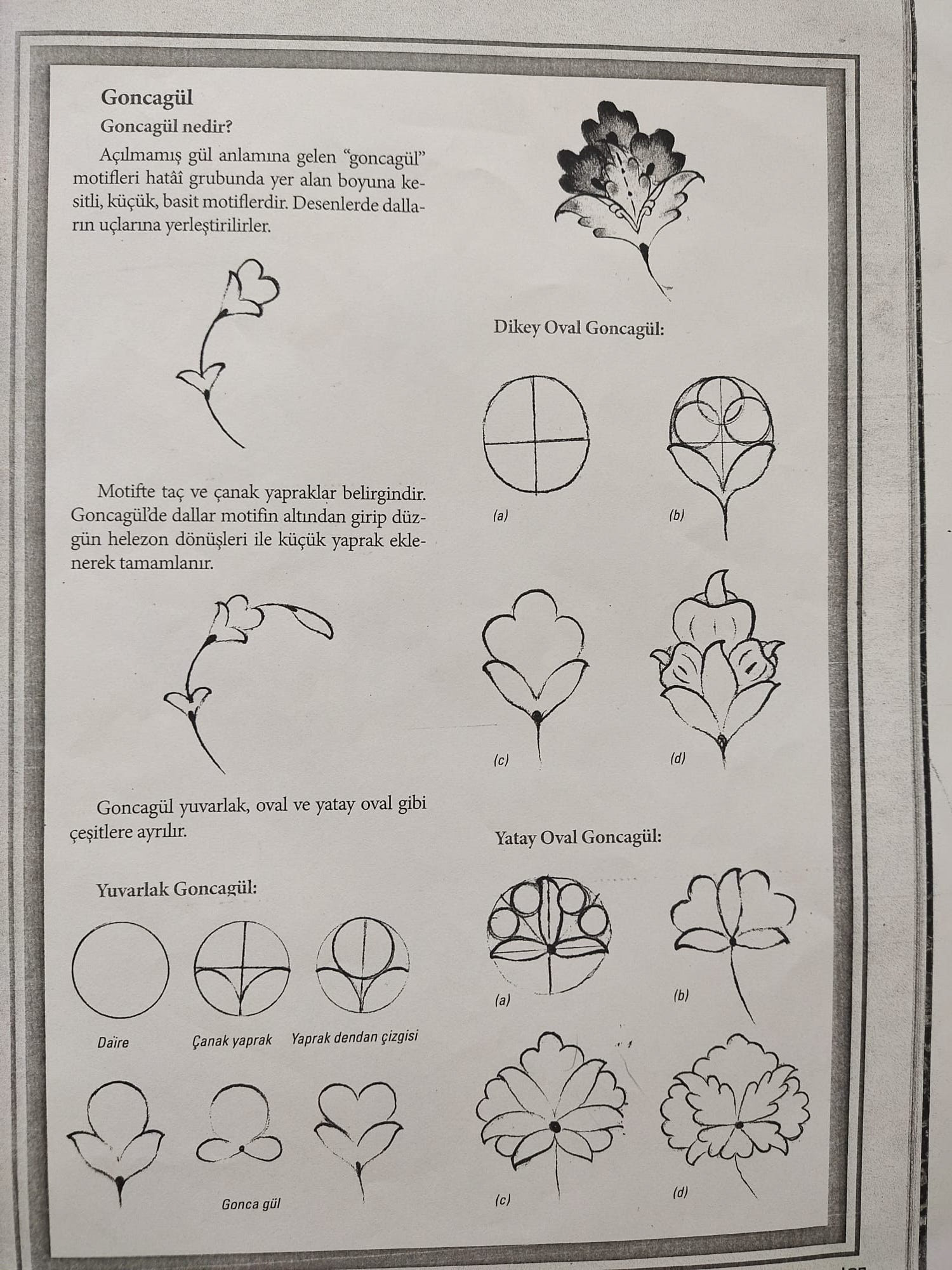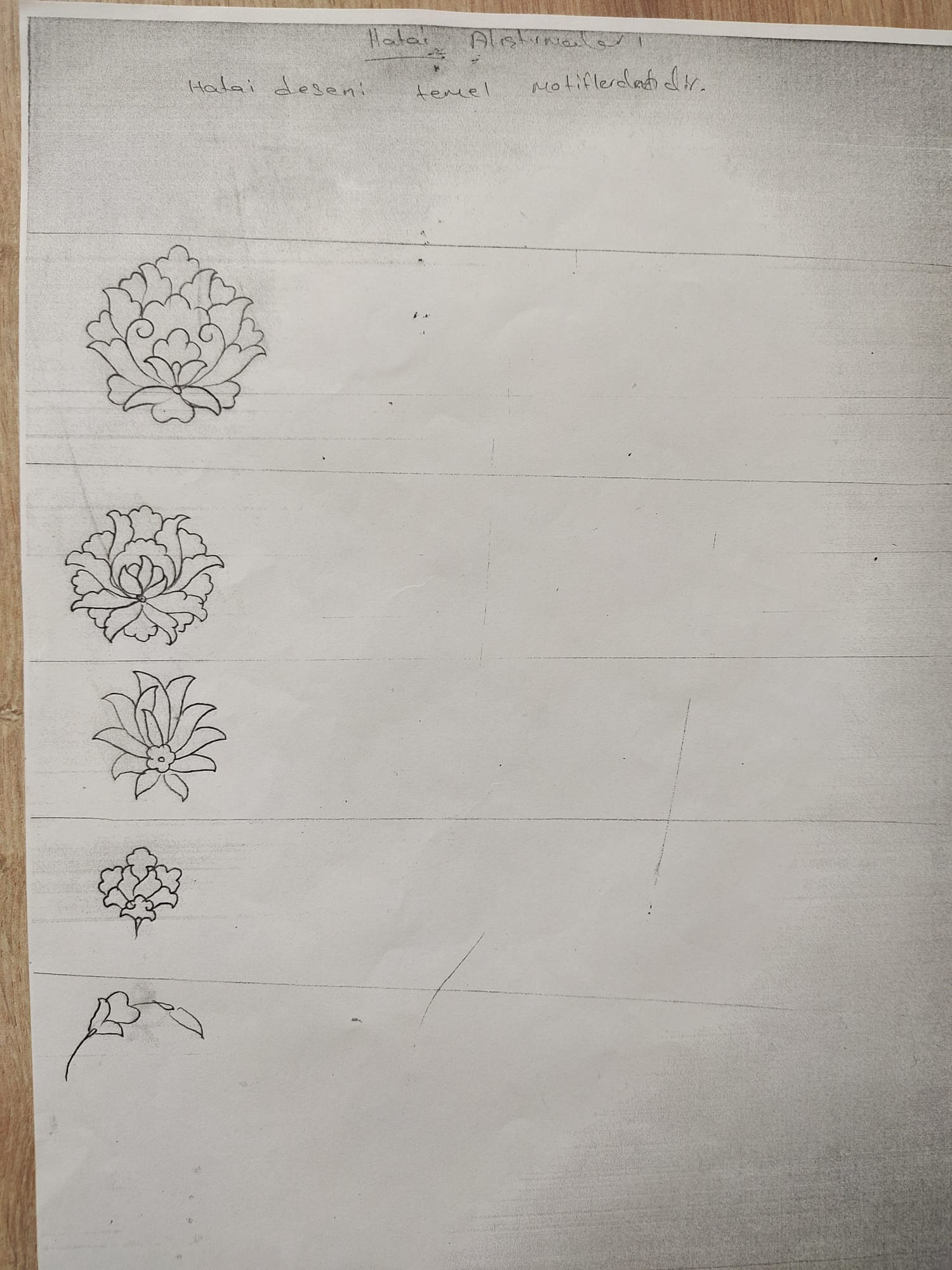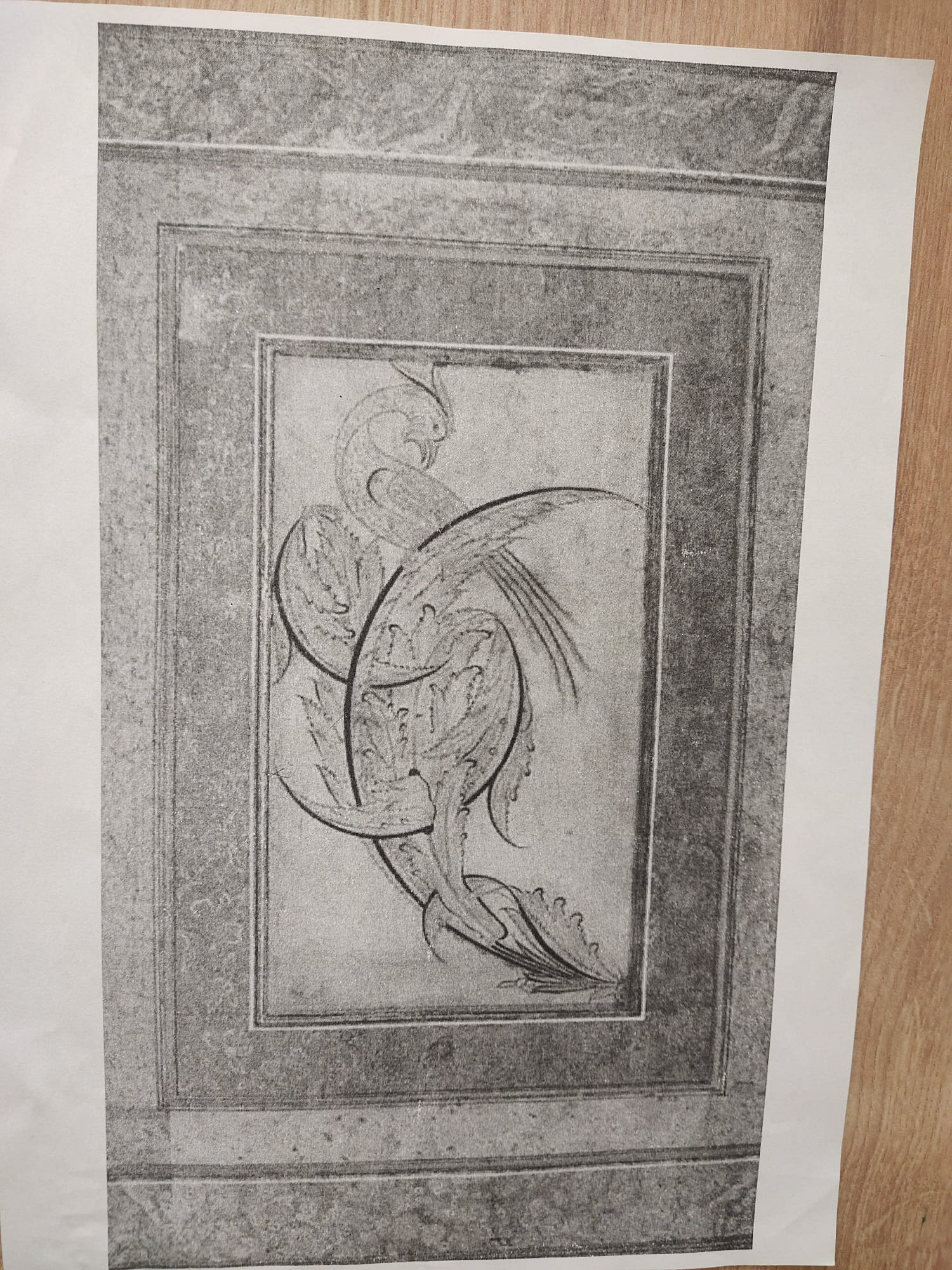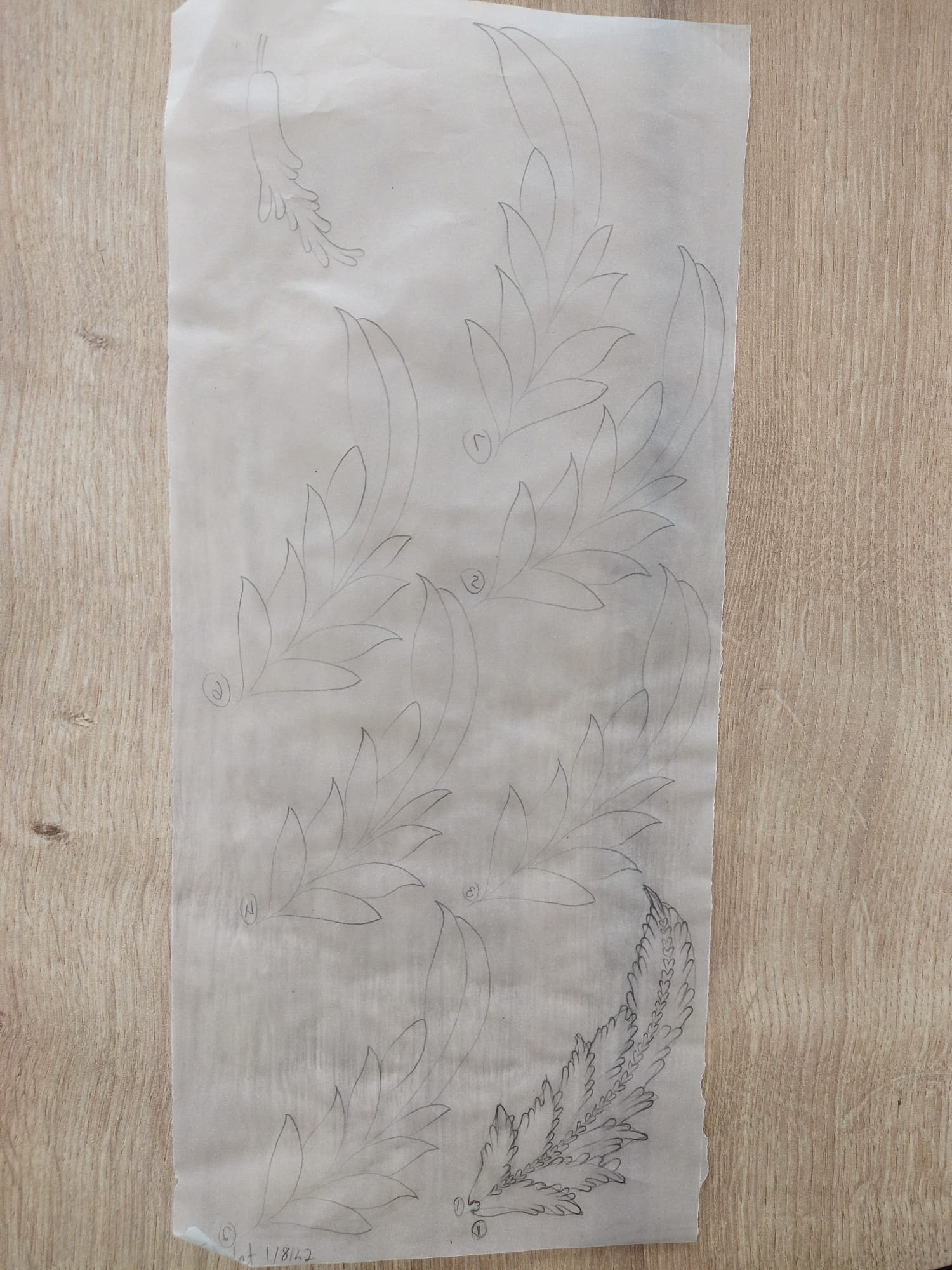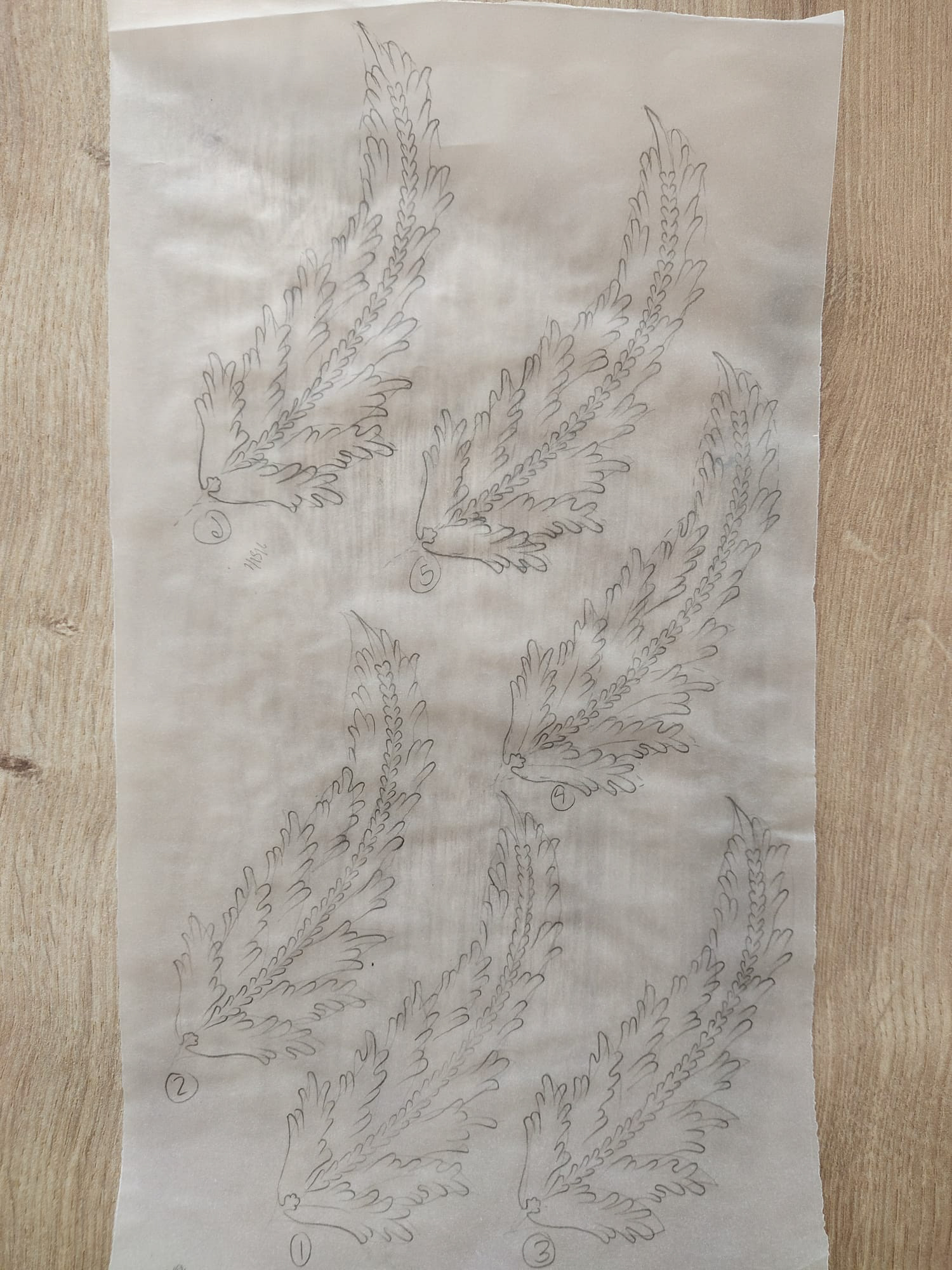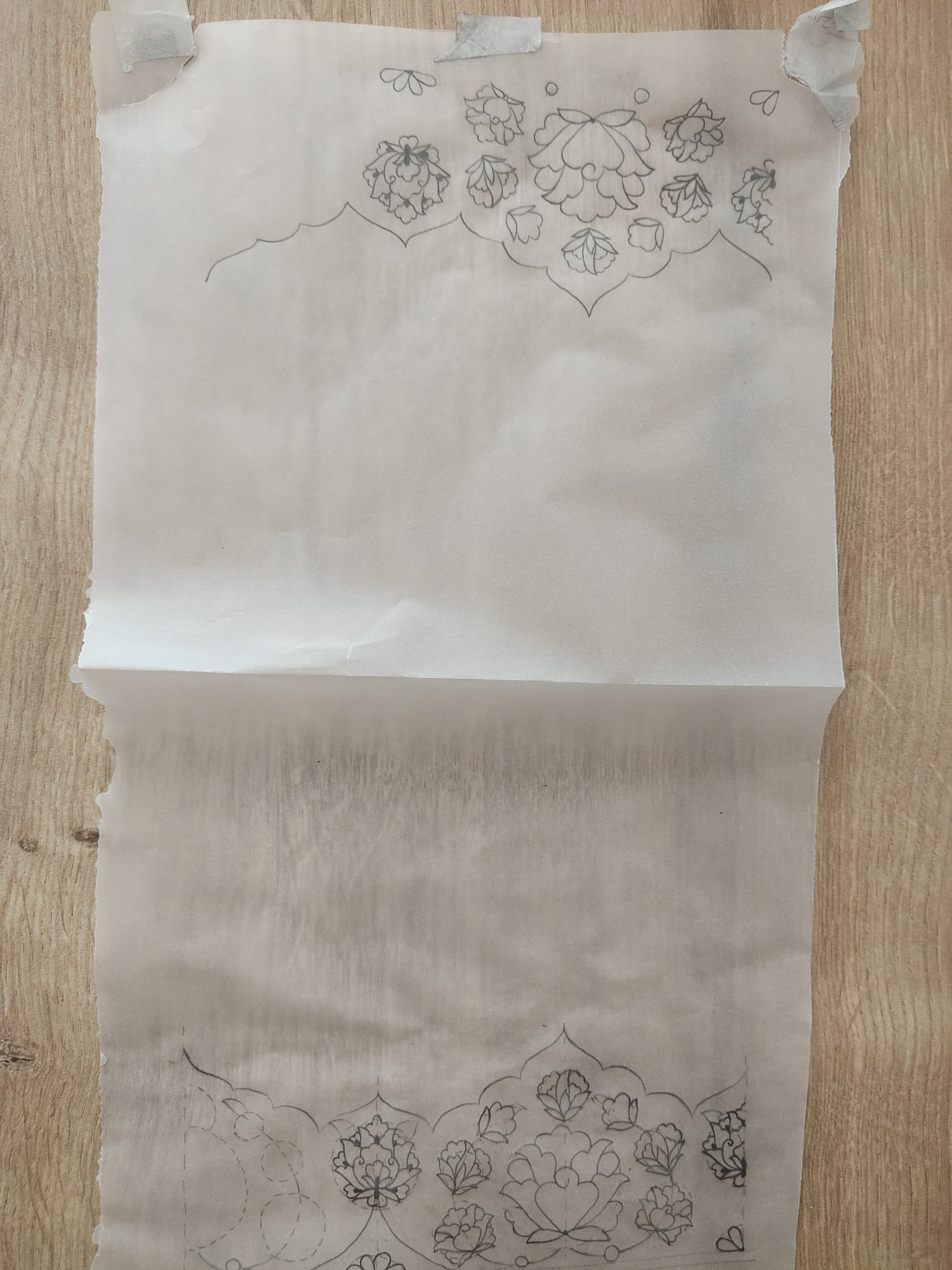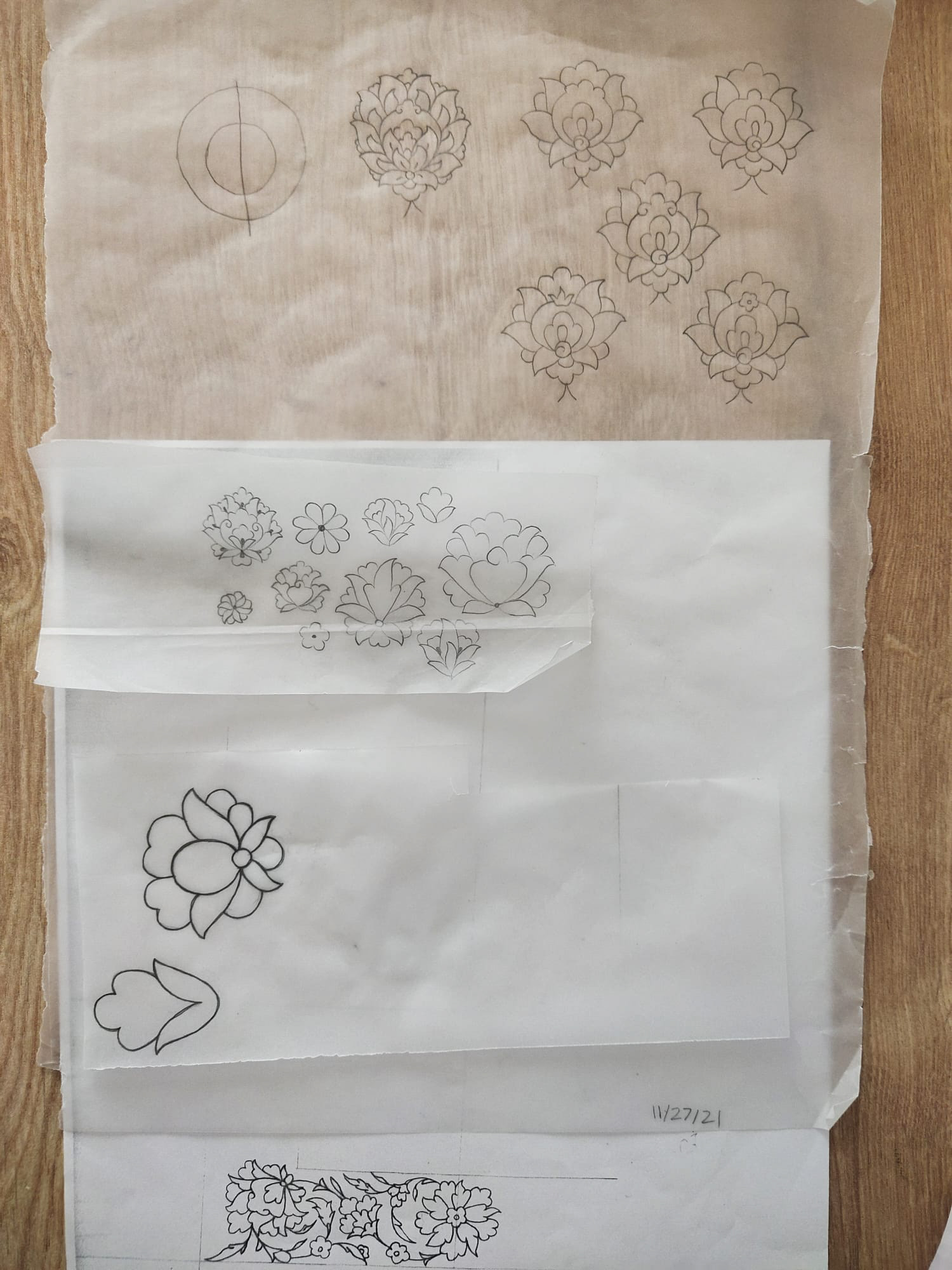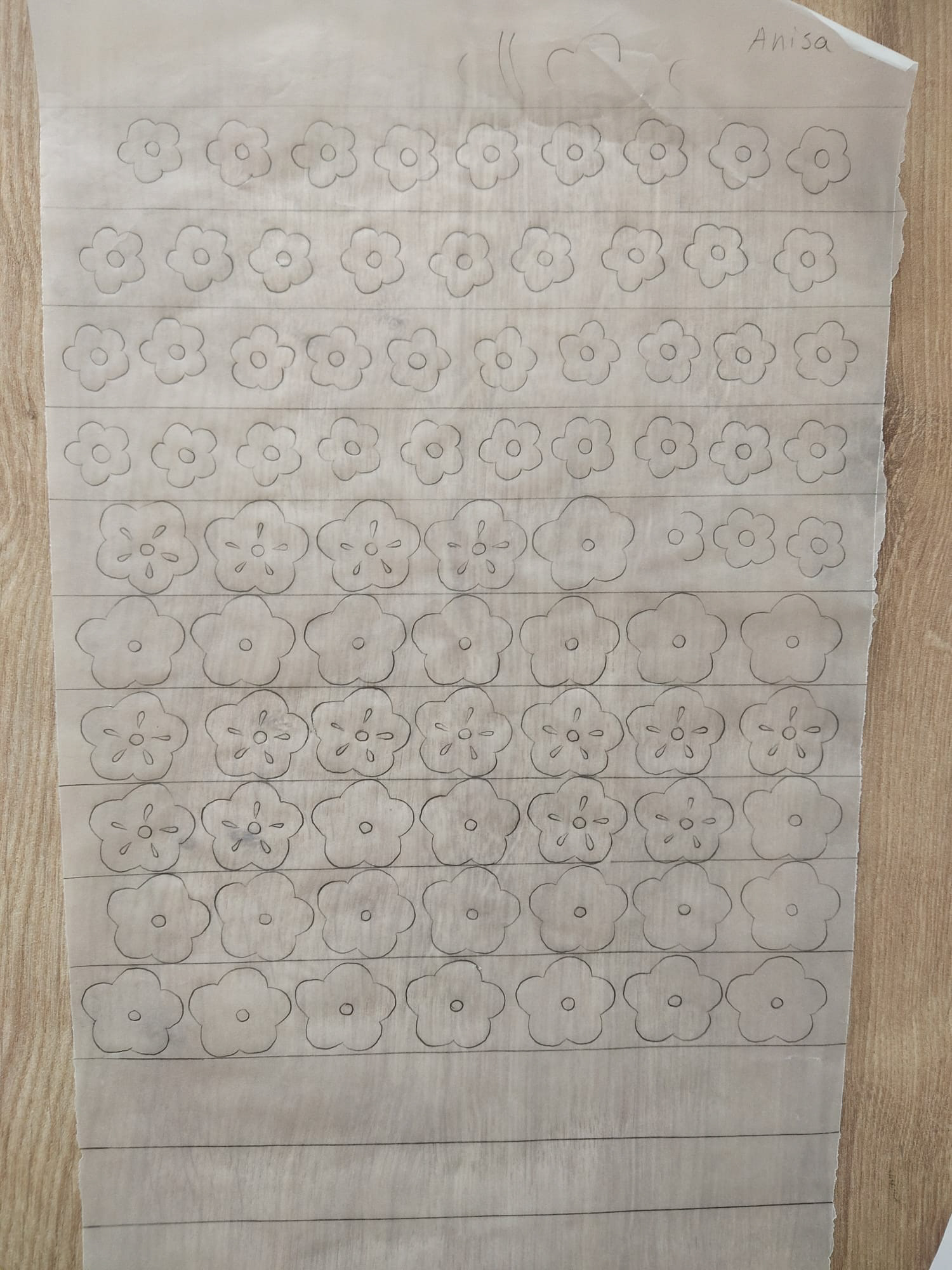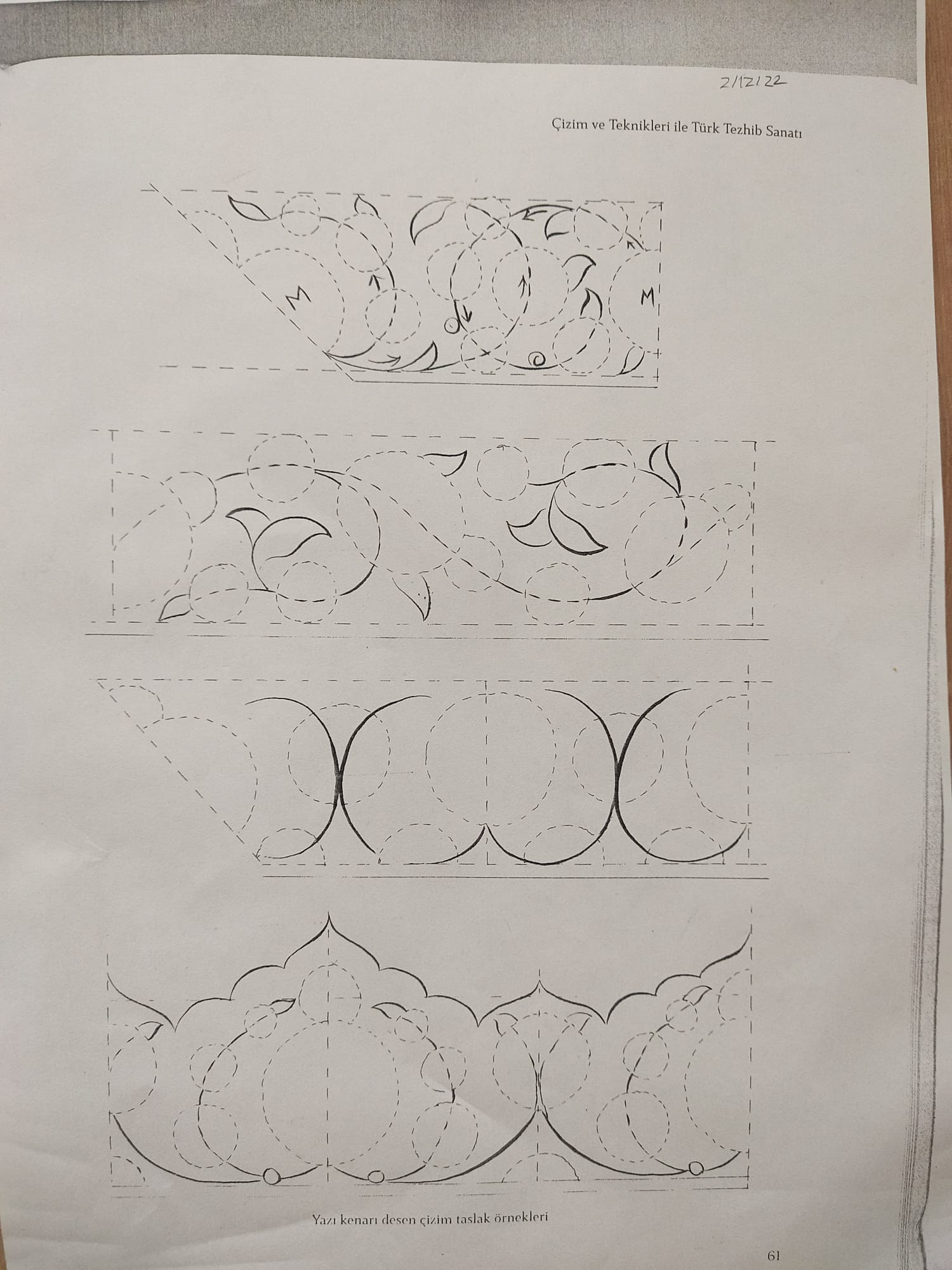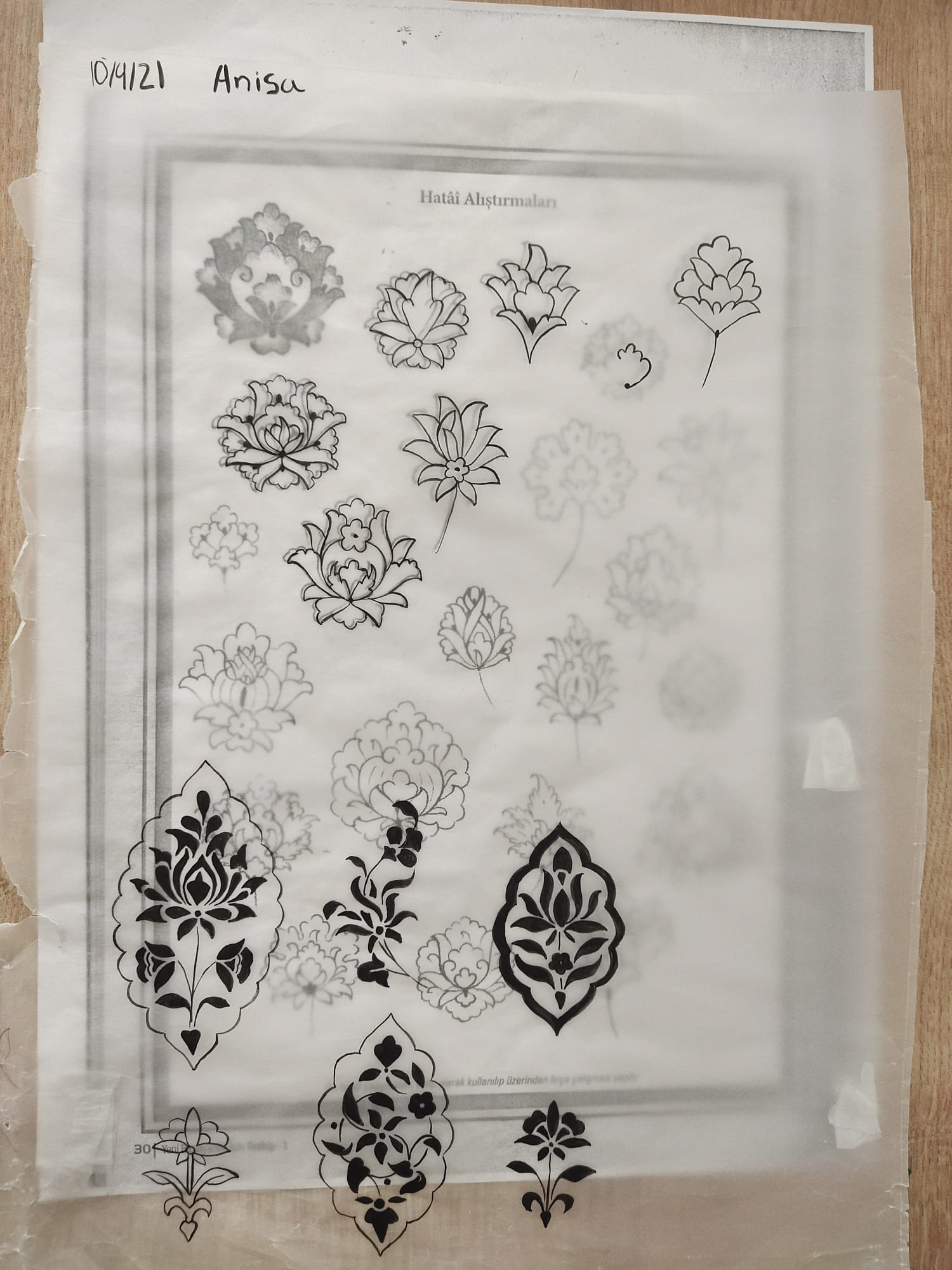 I began my journey learning Tezhip, also known as illumination and gilding, in September 2021 at Cihanoğlu Külliye in the Köprülü District of Aydın. Külliye refers to a social complex that was common during the Ottoman Era. Cihanoğlu Külliye, built in 1756 by Cihanzade Müderris Abdülaziz Efendi, is an important example of Ottoman Baroque style, with its square-plan units featuring masonry walls, wooden roofs, and an opening to the courtyard with a low-arched door and rectangular window. I will share my upcoming Tezhip works here.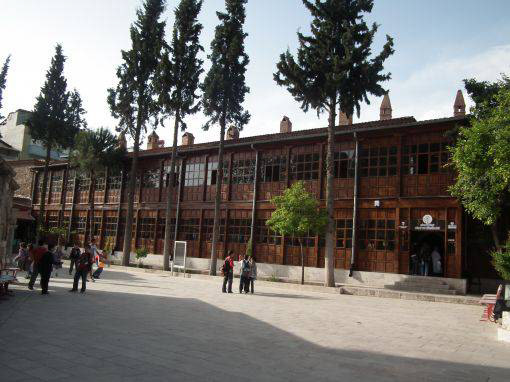 To Whom It May Concern,
As Anisa's Tezhip teacher, I have observed her exceptional abilities as an artist. She possesses a keen perception and has demonstrated a strong aptitude for hand skills in her work. Anisa has a natural talent for composition, and her pencil drawings and color perception are truly impressive.
In addition to her artistic talents, Anisa is a pleasure to work with. She is respectful and compatible with her surroundings, making her a joy to teach and be around.
I do not doubt that Anisa has the potential to excel in a variety of fields within the fine art industry. I wholeheartedly recommend her for any program or opportunity she may be seeking, and I believe she will make a valuable addition to any artistic community.
Sincerely,
MÜZEHHİBE ELİF AYDIN (December 29, 2022)
İlgiliye,
Anisa'nın Tezhip öğretmeni olarak, onun yeteneklerini sanatçı olarak gözlemlemekten mutluluk duydum. Algısı çok iyi ve el yeteneğine sahip olduğunu yaptığı işlerde göstermiştir. Anisa doğal bir yetenekle kompozisyon için, ve karakalem çizimleri ve renk algısı gerçekten etkileyicidir.
Sanatsal yeteneklerinin yanı sıra, kendisiyle calışırken keyif verici bir kişiliği vardır.  Çevresine saygılı ve uyumlu olduğu için, ona öğretmek ve etrafında olmak keyiflidir.
Anisa'nın, güzel sanatlar endüstrisinin çeşitli alanlarında başarılı olma potansiyeline sahip olduğuna şüphem yoktur. Onu başvurduğu bir program veya fırsat için tavsiye ediyorum ve inanıyorum ki, herhangi parçası olacağı sanatsal topluluklara değerli bir katkıda bulunacaktır.
Saygılarımla,
MÜZEHHİBE ELİF AYDIN
If you need a fresh perspective for your design projects or want to commission artwork, please do not hesitate to

contact Anisa

. She is proficient in the Tezhip art style and would be happy to assist with your creative endeavors.
Additionally, you can visit her Youtube Channel to watch and learn about the creative process through the speedpaint videos and other content. 
​​​​​​​