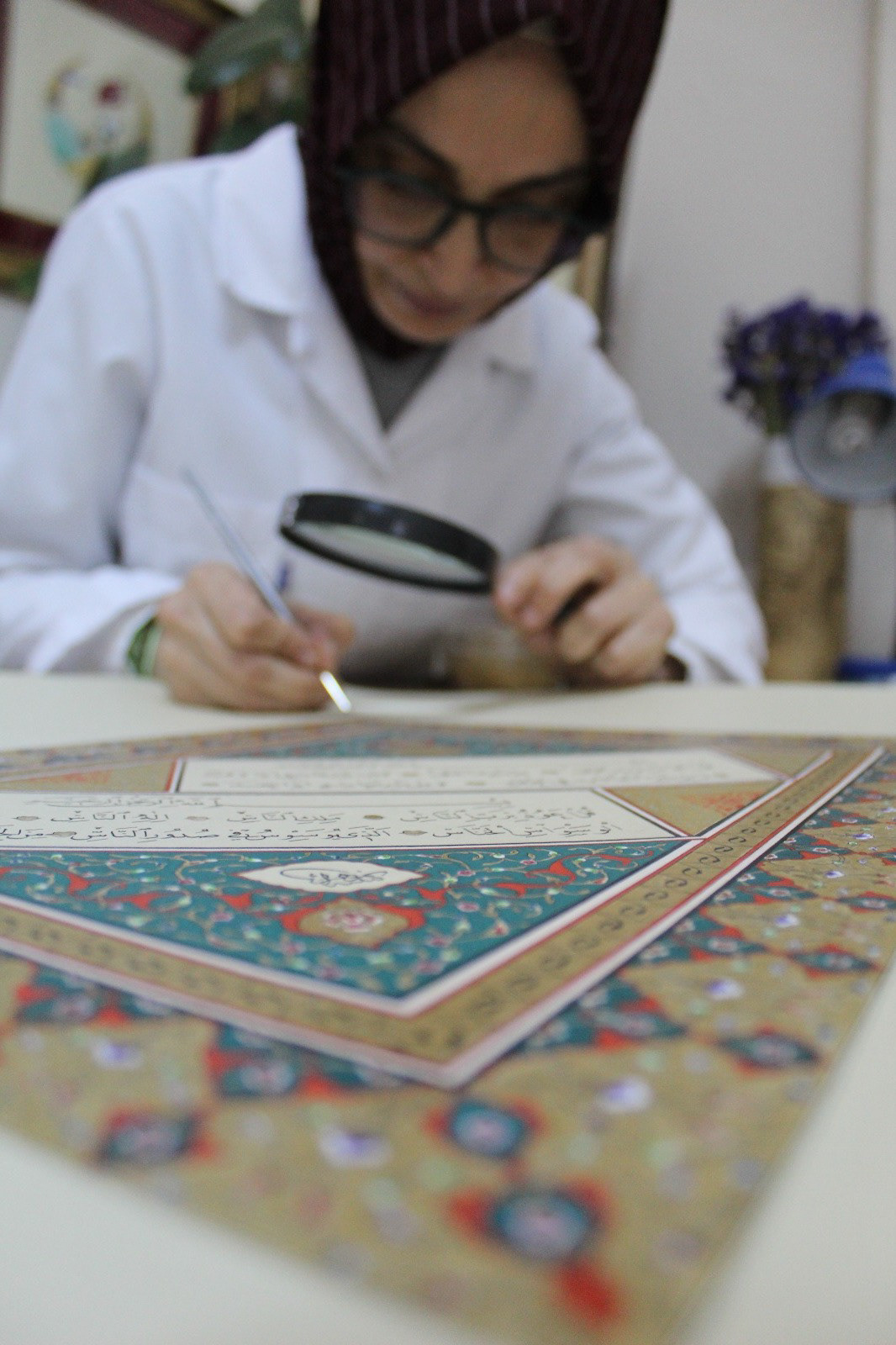 Tezhip, also known as illumination art, is a decorative art form that adorns manuscripts such as books and plates with crushed gold and various colors. The practice of illuminating manuscripts, particularly poetry books, dates back centuries and was often used to honor sultans, viziers, statesmen, and other prominent individuals. However, Tezhip is perhaps most well-known for decorating the Qur'an's first and last pages and the beginning of each surah. This art form requires a great deal of love, patience, joy, and grace to create, and the finished works are a testament to the beauty and skill of the artist.
Hicrigül
is a  feminine given name. It is derived from the name Hijr, which means "separation," and the  suffix -gül, which means "rose." So the name Hicrigül means "separation rose."
Enes
is a  masculine given name that means "companion," "support," or "friend."  The name Anisa is the feminine version of the same meaning.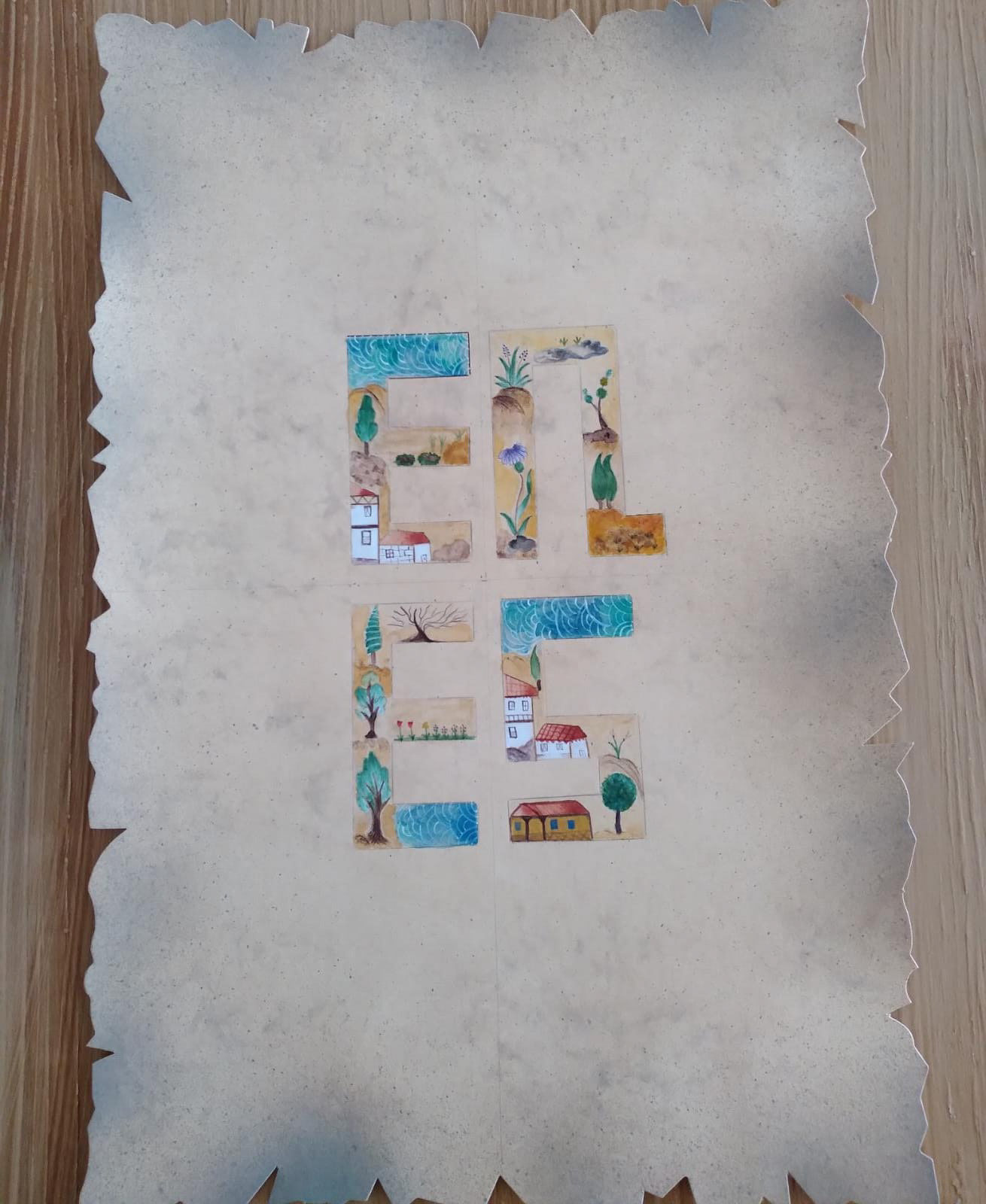 Müzehhibe Elif Ela Aydın emphasized the importance of hard work, patience, determination, and consistency in learning the art of illumination. She encouraged anyone seeking discipline to try this art form, stating that talent is unnecessary to create beautiful works. The key is to work with a disciplined master and apprentice and to pass the art down from generation to generation.
Tezhip, or gilding or ornamentation, involves creating intricate designs on cardboard using various techniques. It is an Ottoman art passed down through the centuries and should be preserved and practiced traditionally, requiring dedication and effort. The process begins by taking a raw cardboard form and designing patterns. The finished cloth product is then transferred to the edge of the line on the cardboard and further processed. It is a beautiful and rewarding art form that requires discipline and dedication to master.
Tezhip, the art of adornment, is a passion that imbues the soul with beauty and grace.
"
While embroidering colors on cardboard, we are also embroidering beauty into our souls
," said Elif Ela Aydin, a skilled artist known for her effective works in illumination, or Tezhip. "I humbly recommend that everyone find an art form that suits their abilities and engage with it. Through this process, we can truly appreciate and understand the nuances of art."
Aydin has been immersed in the world of Tezhip for many years and is passionate about sharing her knowledge and skills with others. "It is important to me to pass on the traditions and techniques of this art form and to help others see its beauty and detail," she said. "I believe anyone dedicated and willing to put in the effort can learn and succeed in this art."
Halkar is a technique used in the art of tezhip. The word "tezhip" means "decoration with gold only." The meaning of halkar is decoration. This decoration is a style in which gold or paint is gradually diluted to create a gradient, and the motifs' edges are left with a strong color. Gold is applied with the help of gelatinous water, and if it is directly left at the edges, it is called halkar; if it is finely brushed with a brush, it is called Tarama Halkar, and if it is applied with color along with gold it is called zerşikaf (colored Halkar). It is more spectacular when applied on dark backgrounds. Gold can also be polished with the help of akik or a natural stone called zermuhre. For a matte finish, muhre is applied on a sketch or thin paper. The halkar designs can also be created with different colored gold or paints.
Shukufe Hyacinth (Şükûfe Sümbül)
Shukufe is a decorative art based on flower motifs. It is also used to mean unopened flowers and buds. The jonquil flower also represents eternal love and the bond of love.
Classic Illumination (KLASİK Tezhİp)
Exhibitions, workshops, 
awards
✾ ​​​​​​​2015-2016: Aydın Provincial Cultural Center
✾ 2016-2017: ADU Atatürk Congress and Exhibition Hall
✾ 2016-2017: Aydın Bilsem Training Center Workshop
✾ 2017-2018: Aydın Recep Yazıcıoğlu Exhibition Hall
✾ 2017-2018 -2019: Aydın Cihanoğlu Complex Certificate of Appreciation for Contributing to Culture, Art, and History by Aydın Governorship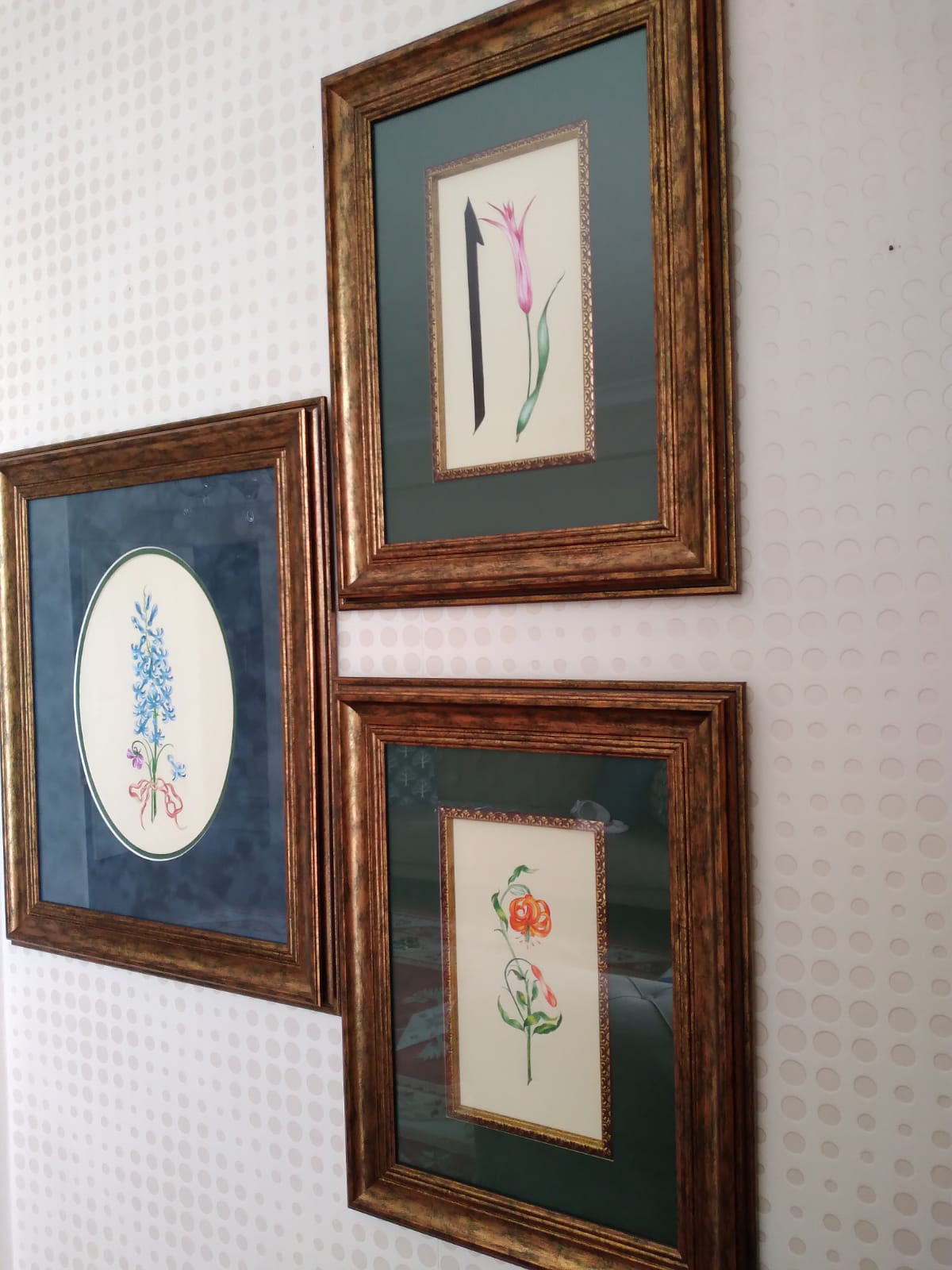 ART MASTERS OF ELIF AYDIN 
​​​​​​​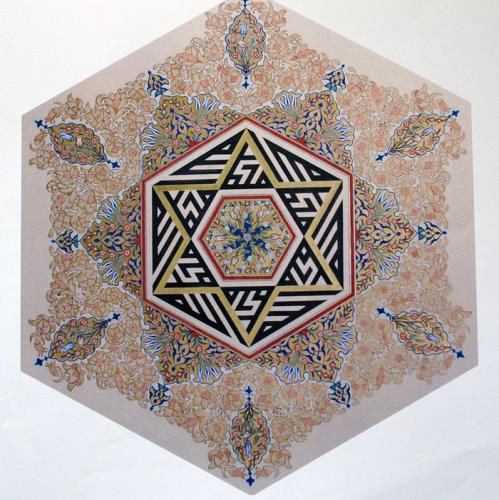 Müzehhibe Elif Aydın: A Journey through the Art of Tezhip and Ottoman Illumination
Journey through the golden trails of Tezhip, an art form of illumination, with the renowned Müzehhibe Elif Aydın. Known for her mastery in embellishing manuscripts and plates with crushed gold and vibrant hues, Aydın's work in Tezhip embodies the legacy of art that honors sultans, statesmen, and prominent individuals. Her artistry extends to adorning the Qur'an's first and last pages and the beginning of each sura. This unique art form demands love, patience, joy, and grace, values deeply upheld by Aydın, reflected in her masterpieces. Under her guidance, names like Hicrigül, meaning "separation rose", and Enes, symbolizing "companion", come to life through Tezhip, reflecting the rich Ottoman tradition.
Aydın's teaching emphasizes the importance of hard work, determination, and consistency, underscoring that talent is not a prerequisite for creating beautiful works of art, but discipline is. She advocates for the preservation and traditional practice of Tezhip, an art form that demands meticulous effort, from designing intricate patterns on raw cardboard to transferring the finished cloth product onto the cardboard.
Tezhip, according to Aydın, is more than an art; it's a passion that imbues the soul with beauty and grace. Known for her proficiency in Halkar, a technique of decoration in Tezhip, Aydın employs a gradient effect by gradually diluting gold or paint, leaving the motifs' edges with a rich color. This, along with Shukufe, a decorative art based on flower motifs and traditional Classic Illumination, completes the triad of her artistic prowess.
Aydın's journey as an illuminator has been recognized through exhibitions, workshops, and awards at venues like the Aydın Provincial Cultural Center and the ADU Atatürk Congress and Exhibition Hall. Her passion for teaching art has seen her imparting knowledge to artists such as Anisa Ozalp. Her learning is rooted in her time spent with illuminators like Muzehhibe Eda Sahan and Arzu Uzunosman, who have greatly influenced her journey. Join Müzehhibe Elif Aydın as she unfolds the golden pages of Tezhip and the art of Ottoman Illumination.
If you need a fresh perspective for your design projects or want to commission Tezhip Style artwork, please do not hesitate to

contact Anisa

. She is proficient in the Tezhip art style and would happily assist with your creative endeavors. Additionally, you can visit her Youtube Channel to watch and learn about the creative process through the speedpaint videos and other content.