You can make fun and unique novelty earrings with the help of various beads. Some of these include skulls, hearts, and flowers. It is necessary to heat Perler beads to create a strong bond between the plastic pieces. This will allow the beads to stick firmly.
STEP 1
: Gather tools and materials needed: 2 fused bead designs, tweezers, blank earring hooks, 8-12 mm in size open jump rings, and jewelry pliers.
STEP 2
: To partially open a jump ring, you must use jewelry pliers and a pair of tweezers. These are designed to pull the metal circle apart so that it can be opened or closed. You may pull the other side of the ring simultaneously with the help of the tweezers.
STEP 3
: Insert the half-opened jump ring into the blank earring hook's bottom hole. So that the earring hangs properly and appropriately while worn, you'll need a hole at the top, preferably in the center of the design.
If the hole in the fused bead pattern has become too small since it was ironed, it needs to be opened up or expanded. This can be accomplished by inserting something with a very small point into the hole and widening it to allow the jump ring to pass through.
Attach the pattern to the blank earring hook using the pliers by closing the jump ring. You may need to twist the earring hook's ends.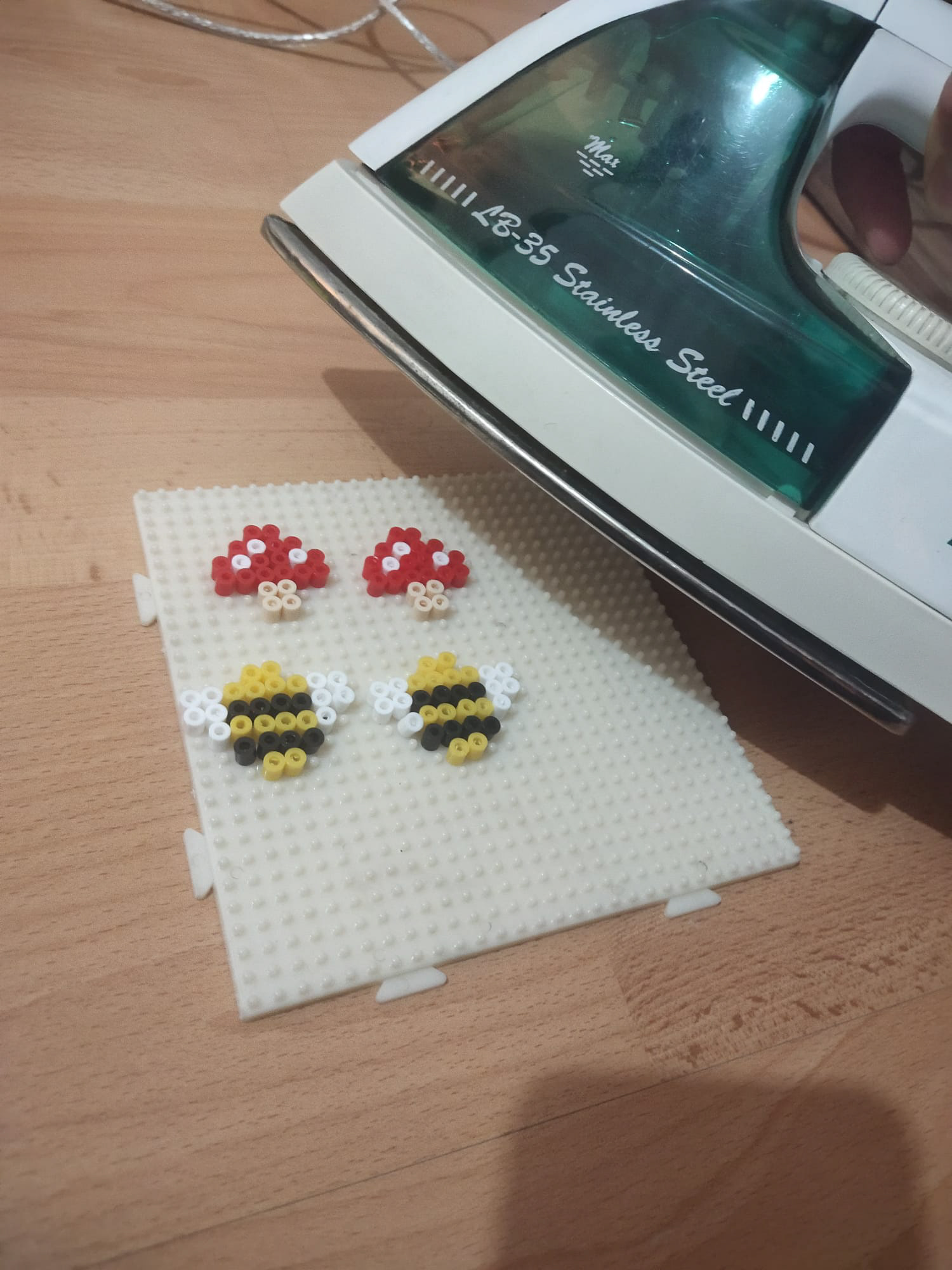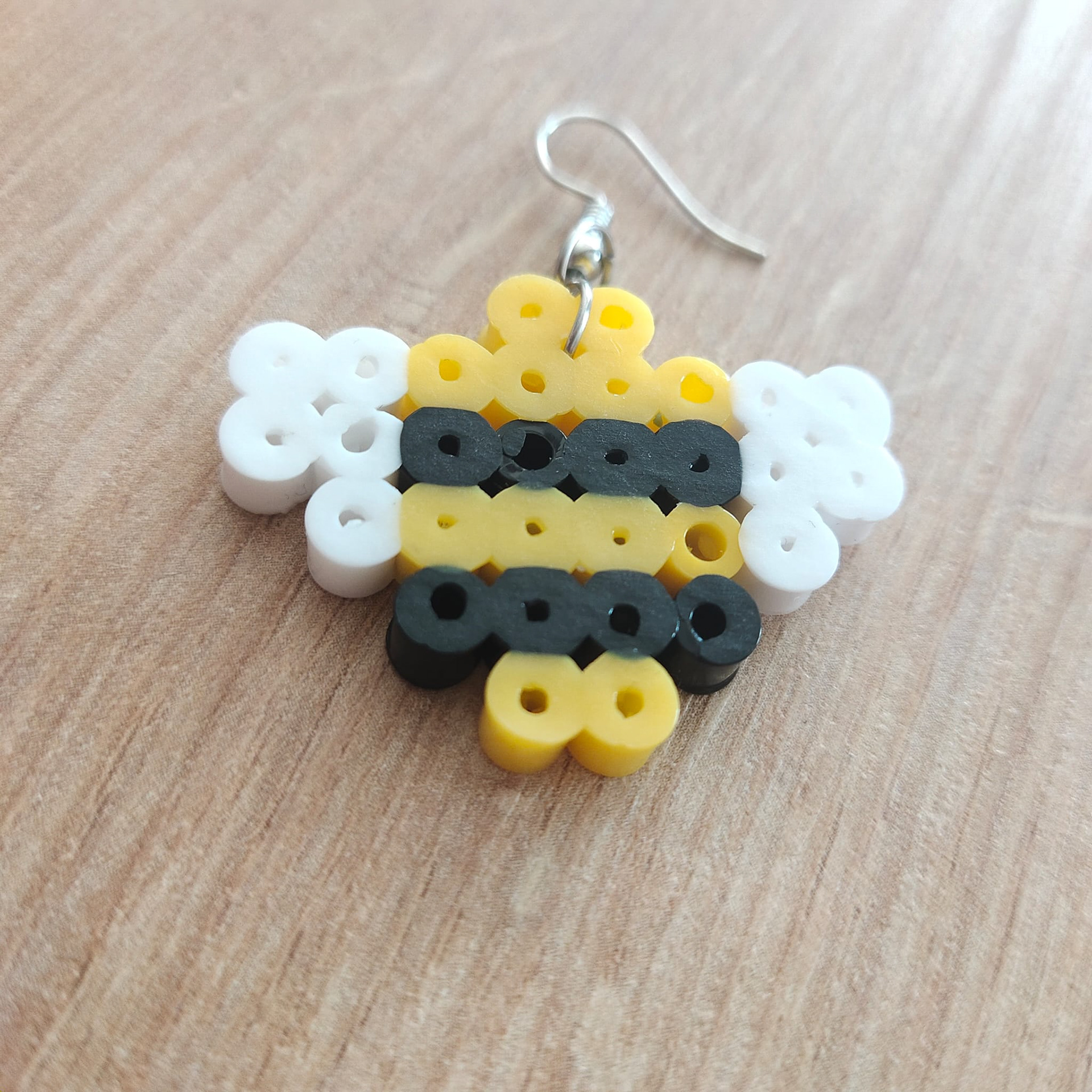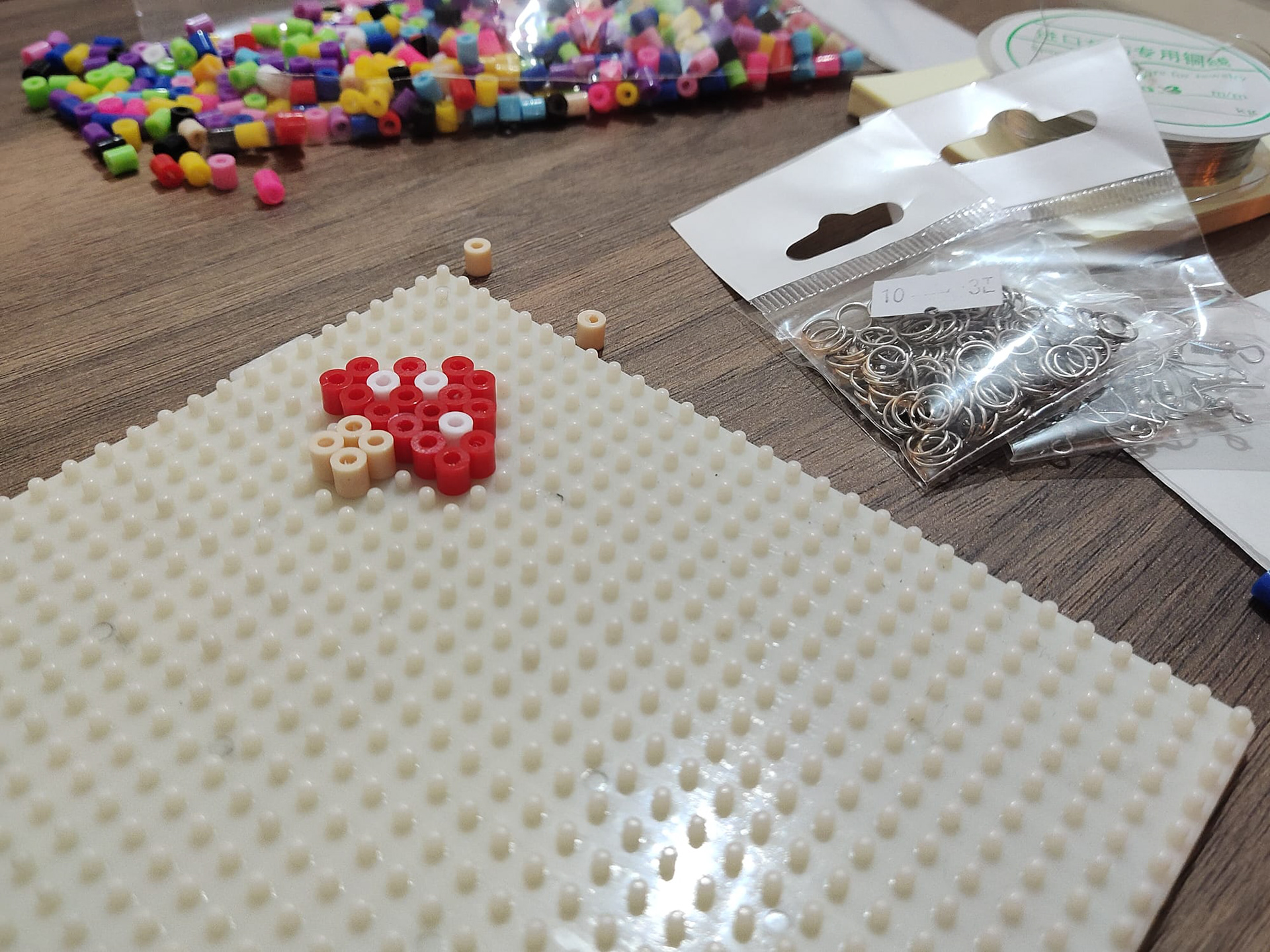 Butterfly PeRler Beads Pant Chain
PROCESS OF MAKING Butterfly PeRler Beads Pant Chain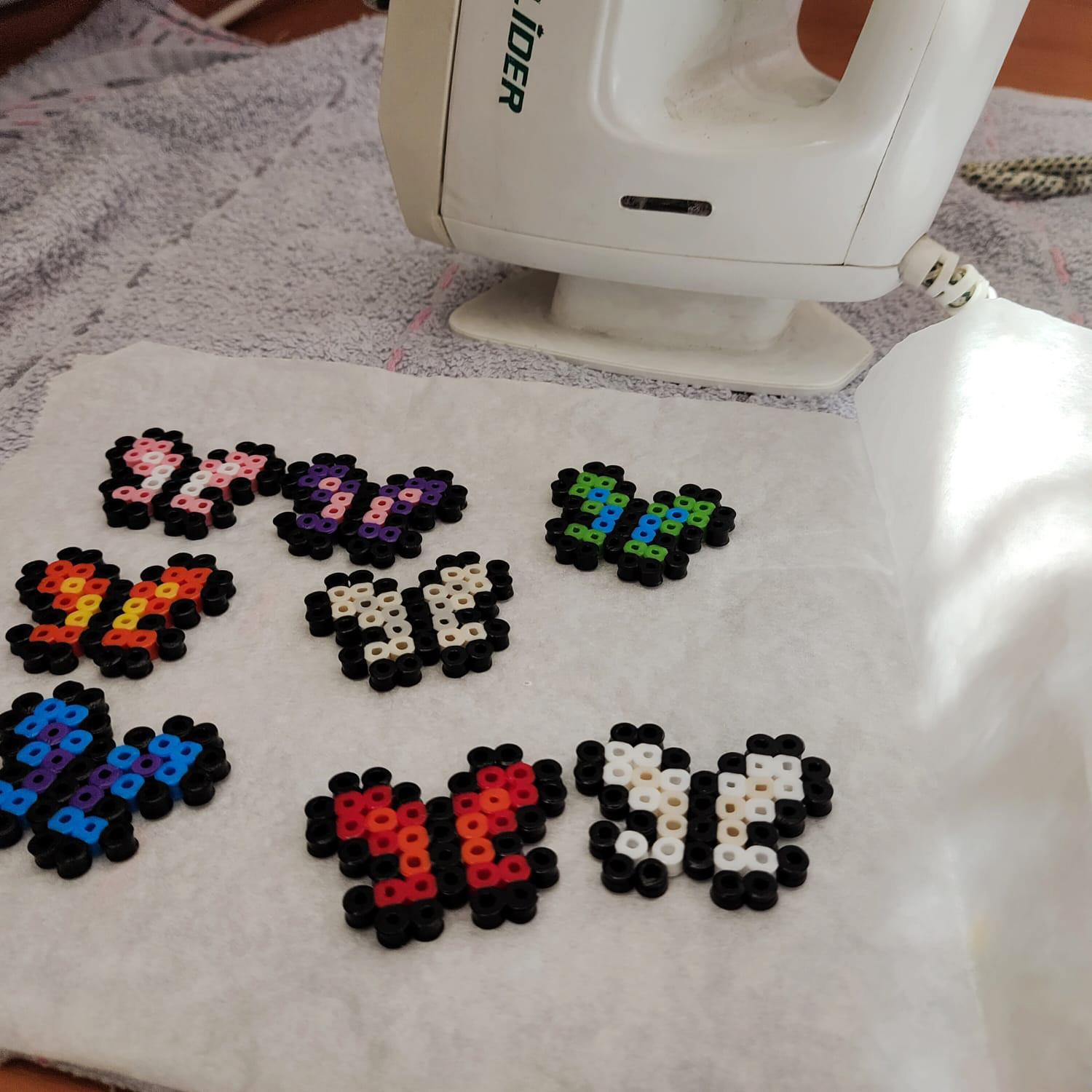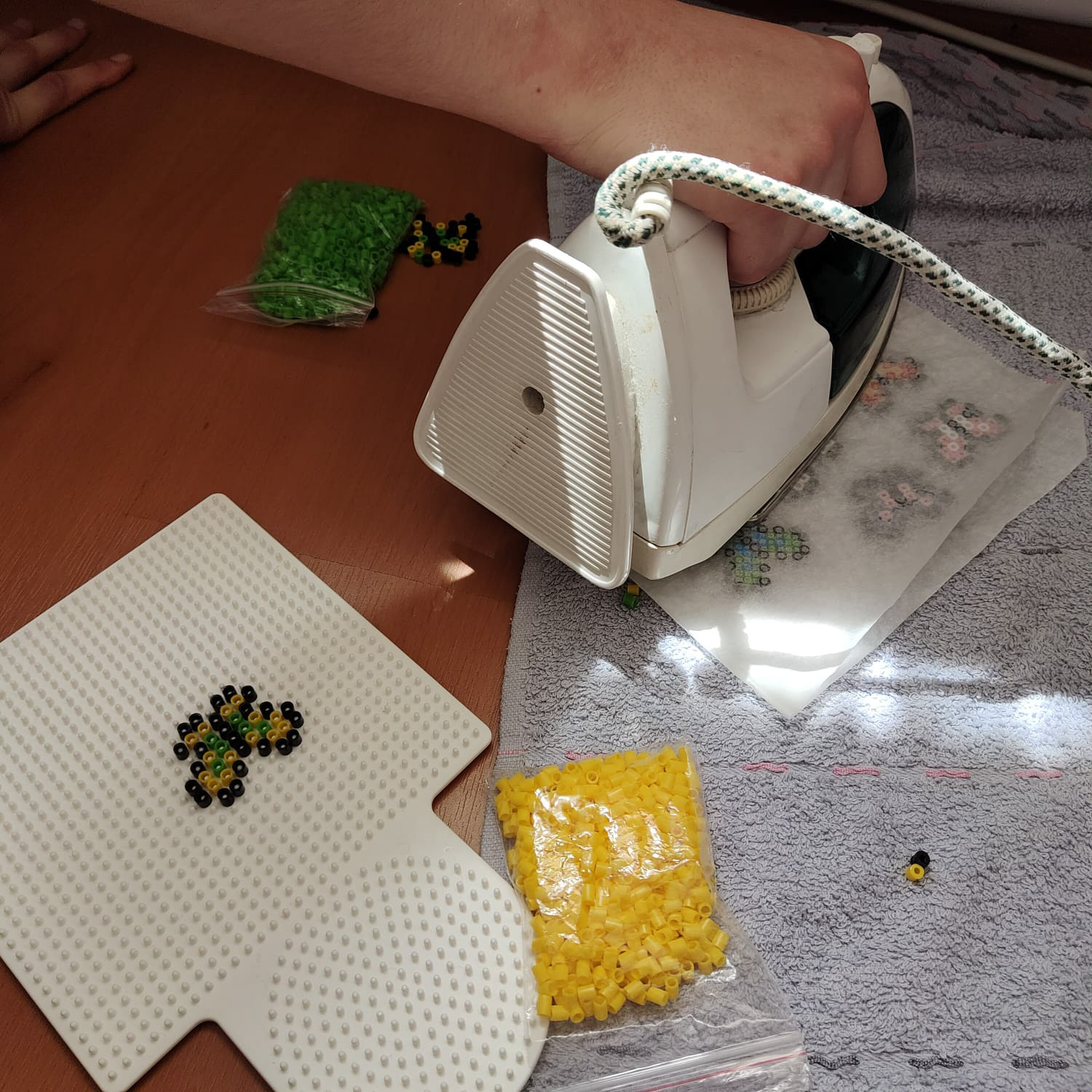 I started to make Perler beads at the age of nine. All the designs created were collected online from multiple sources. Perler Beads, aka Hama beads, Nabbi beads are made from food-grade plastic fusible beads called low-density polyethylene. They don't contain harmful chemicals. The beads are arranged on pegboards to form patterns and then fused with heat using an iron. Perler beads is an enjoyable and affordable, simple art that sparks creativity. It can also help kids improve hand-eye coordination capabilities and learn color styles and basic counting. Perler beads come in solid colors, translucent colors, glitter, and glow-in-the-dark options.
Unleash Your Creativity with Perler Beads: From Earrings to Artistic Designs

Explore the world of Perler Beads, also known as Hama and Nabbi beads, and dive into the pool of creativity. Made from food-grade plastic fusible beads, these unique crafting materials are the secret behind stunning bead creations by Anisa Ozalp. Enjoy crafting novelty earrings using these beads, with designs ranging from skulls to hearts and flowers. The process involves heating the Perler beads to create a durable bond between the plastic pieces. Follow a simple step-by-step guide to create your own pair of Perler Beads earrings, from gathering the right materials to attaching your fused bead design to the earring hook.
Moreover, there's more to Perler Beads than just earrings. Consider crafting a charming butterfly pant chain or exploring the endless potential of artistic designs. Collected from various online sources, these patterns ignite imagination and foster learning. Perler beads offer an enjoyable and affordable way to boost hand-eye coordination and learn about colors, styles, and basic counting, making it an ideal activity for kids and adults. With a wide array of colors, including solid, translucent, glitter, and even glow-in-the-dark options, Perler beads offer limitless creative possibilities. You can also watch speedpaint videos and other tutorials on the creator's YouTube channel or commission custom artwork. Dive into the world of Perler Beads today and awaken your artistic side. #perlerbeads #perlerbeadpatterns #perlerbeadideas #perlerbeadearrings #perlerbeadart.
Immerse yourself in the vibrant universe of Perler Beads. You can watch many digital art Speedpaint videos by exploring the artist's YouTube channel. Fancy a bespoke creation? You're welcome to
commission
 design for your own projects. 
#perlerbeads #perlerbeadpatterns #perlerbeadideas #perlerbeadearrings #perlerbeadart, #perler bead patterns,

#

perler, #perler bead ideas, #perler bead, #perler beads patterns, #perler beads ideas, #perler bead designs #Perler Beads Earrings